Cool moments can be big or small – a birthday ending in zero, a wedding, or even a high school reunion – and everyone encounters them.
For Debra Messing, when it comes to being ready for her cool moments like walking down the red carpet she turns to body contouring using the fat freezing technology of CoolSculpting and regular facials. At least a month prior to her big event, Debra Messing uses CoolSculpting to reduce bulges in areas with stubborn fat that are resistant to her healthy lifestyle.
Debra Messing experienced a difference with CoolSculpting — the FDA-cleared, non-invasive treatment helped her achieve her body contouring goal by freezing her unwanted fat away with no surgery and little to no downtime — because, after her treatment, she and others around her noticed a change. And the best part was that the treatment takes an hour or less.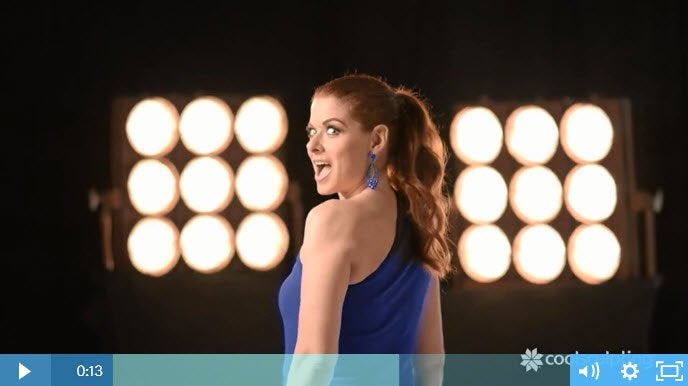 Like so many of us, Debra wants to feel like her best self, no matter the occasion. Your red carpet moment might not actually be walking an awards show red carpet; your moment may be looking fantastic in your dress at your best friend's wedding, which is just as important.
Feeling comfortable in your clothes and loving the way you look can improve your confidence to tackle your big events. CoolSculpting can help you boost your confidence by reducing your stubborn areas of fat whether they are around your abdomen, arms, chin or thighs. The CoolSculpting treatment can help both women and men get rid of those stubborn bulges for good.
Call now to schedule your appointment or consultation. We will waive the consultation fee when you book a procedure the same day as your consultation. Dr. Gould has performed more Coolsculpting treatments than any other local doctor or body sculpting center in Fairfield County.

You've heard how great CoolSculpting can be for spot reducing unwanted stubborn fat , but you may be wondering: "what about laxity? Can CoolSculpting improve the appearance of lax tissue?" When it comes to a double chin, the answer is "yes," as the FDA has cleared CoolSculpting to improve the appearance of lax tissue in conjunction with treatments for submental fat (double chin).

CoolSculpting is the first and only non-surgical fat reduction technology to earn the FDA clearance to improve the appearance of lax tissue after double chin reduction treatment .


RESULTS PROVEN IN A CLINICAL STUDY
In an 18 week clinical study of the submental fat (aka double-chin), CoolSculpting
was proven to improve the appearance of lax tissue in more than 3/4 patients
visibly improved tissue laxity in 77% of the patients
made the chin look more toned after treatment for 75% of the patients
You can think of CoolSculpting as the double approach to the double chin because not only does it noticeably reduce chin fat, it also improves the lax tissue.
Is Chin Fat Bothering You?
In a 2016 survey by the American Society for Dermatologic Surgery revealed that 73% of patients are bothered by excess fat under the chin. So if fat under the chin bothers you – you are not alone. In fact, CoolSculpting research has found that the 4th most desired treatment area is the chin.
How Does CoolSculpting Reduce Chin Fat?
CoolSculpting reduces unwanted fat by destroying fat cells with Cryolipolysis (aka "freezing the fat"). This typically results in about 20% fat reduction in the treated area.* The best part about this treatment is that it is a non-invasive treatment that takes less than 1 hour and has zero downtime. Plus, once the treated fat cells are gone, they are gone for good.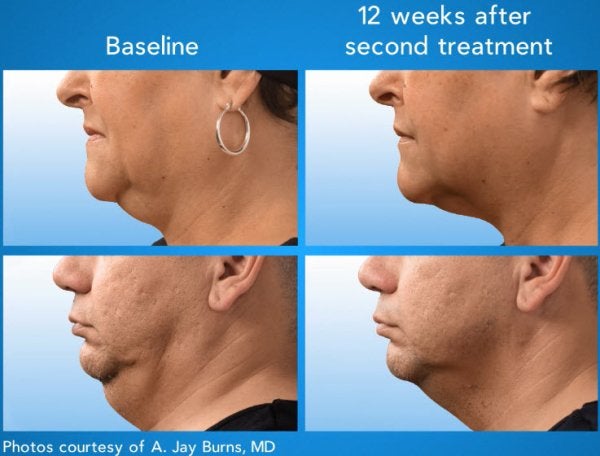 *results typical but not guaranteed

Are you tired of only seeing problem areas when you look in the mirror?
Wish there was a way to easily spot reduce stubborn fat on your love handles, abdomen, back or thighs?
Fear no mirror. And spot reduce and shrink problem fat with Coolsculpting fat reduction treatment in Fairfield, CT. Coolsculpting targets and kills fat cells with no surgery or downtime. It definitely beats having to maintain a super strict diet or insane exercise schedule.
Learn why patients are saying the following about Coolsculpting treatment .
I don't have to worry about what I wear and how it's going to make me feel any more. I know everything I put on is going to make me feel good.
It really has been one of the best things I have done. It made me really feel confident.
It gave me back the body I had before I had kids.I feel much more confident.
It's time you see a slimmer you when you look in the mirror. It's time for you to get Coolsculpting!
​Results may vary.


NEW TREATMENT TO ELIMINATE YOUR DOUBLE CHIN
For years CoolSculpting has been the top treatment to non-invasively shrink unwanted body fat. Now CoolSculpting offers a way to quickly and easily reduce that dreaded double chin with our new CoolMini treatment.
IN A RECENT CLINICAL STUDY USING THE NEW COOLMINI™ APPLICATOR:
8 out of 10 patients would recommend the procedure
Why use CoolMini to shrink your double chin?
It's the #1 non-invasive fat reduction treatment available to treat under the chin
Get amazing results in only 1-2 visits
This treatment requies no downtime, surgery or needles
If you are tired of seeing a double chin every time you look in the mirror then CoolMini might be the ideal treatment for you. Learn more about the CoolMini treatment at All About You Medical Spa in Fairfield, CT.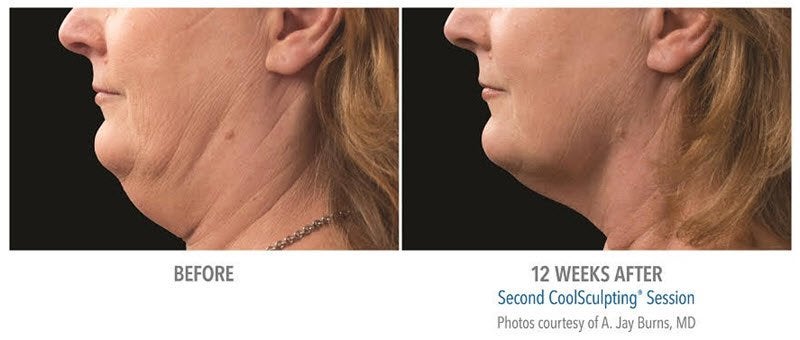 Results may vary.

What if you could sculpt your body the way you want?
No surgery.
Just a slimmer, more sculpted you.
The world's first and only non-invasive body contouring system for the reduction of stubborn fat in just 25 minutes.
Fat cells are destroyed
Treat multiple areas in a single session
Over 90% patient satisfaction
No downtime
The light-based energy damages up to 24% of treated fat cells.
In the weeks following treatment, the body naturally eliminates the injured fat cells.
SculpSure is ideal for people with trouble spots, particularly those that seem resistant to diet and exercise.
Learn more about SculpSure and schedule your complimentary consultation with Dr. Gould today!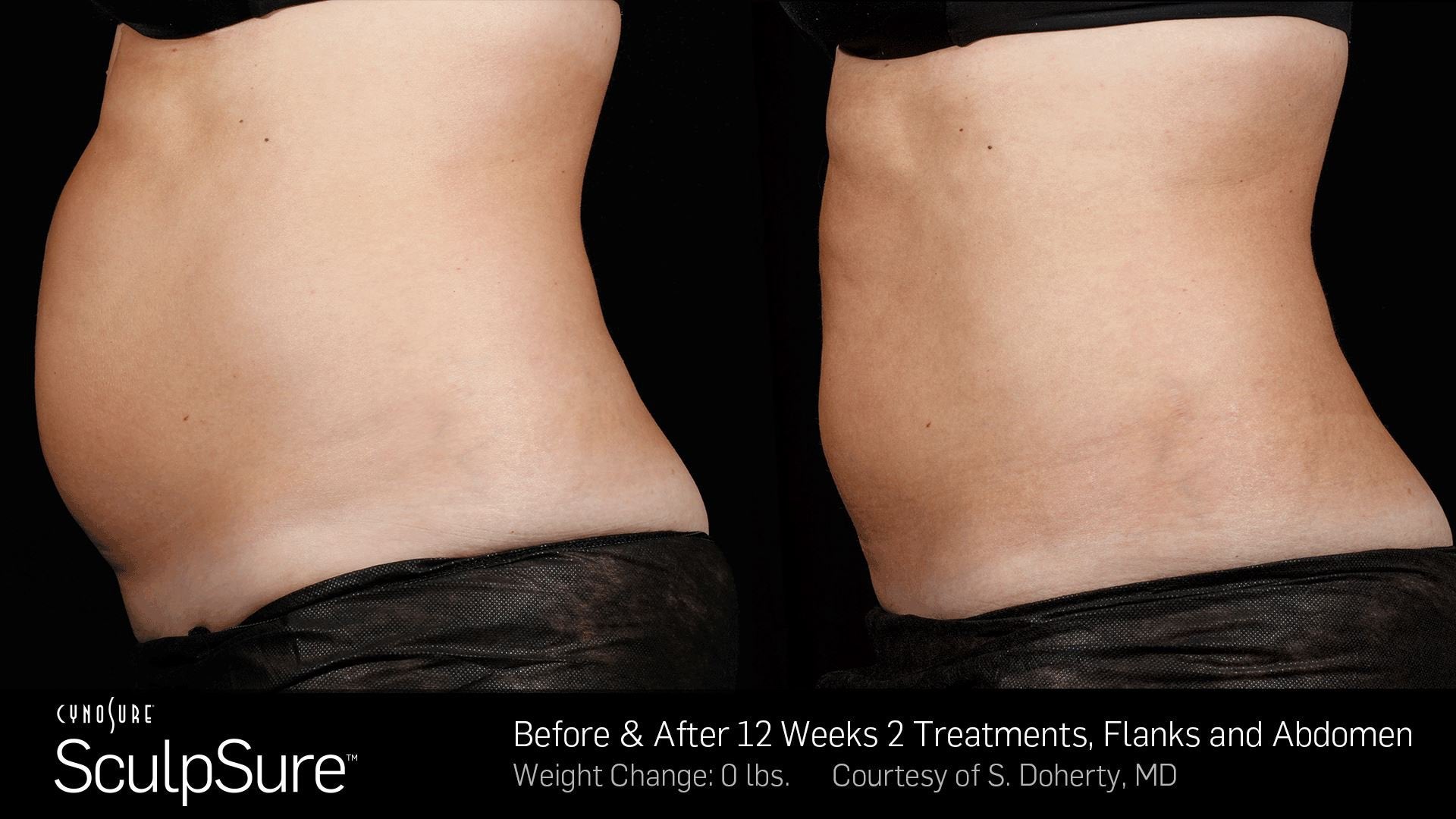 Results may vary.

SculpSure , non-invasive body contouring treatment, is the 25 minute game changer when it comes to fat cell reduction. This high-tech, FDA approved laser technology melts fat and is the next great tool in battling the bulge . The procedure is intended for those who do watch their diet and exercise but have stubborn pockets of fat.
This is probably going to be the biggest change in treatment in fat reduction in the last decade," says Dr. Mitchell Chasin, medical director of Reflections Center for Skin and Body in Livingston, N.J . "The last one was laser lipo."
All About You Medical Spa in Fairfield is excited to be one of the first to offer this advanced fat reduction treatment. As an alternative to risky liposuction and CoolSculpting , we are proud to be able to offer our patients a variety of options when it comes to achieving the desired aesthetic results they are looking for!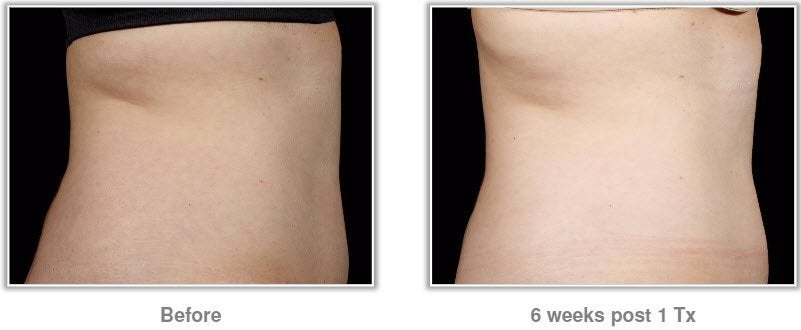 This 25 minute procedure destroys 24% of treated fat cells without surgery. If you have areas of fat that are resistant to diet and exercise, SculpSure may be the ideal solution for you. Schedule your consultation with Dr. Gould today to learn more.
Most patients see results as early as 6 weeks following their SculpSure treatment as the body begins to eliminate the destroyed fat cells. Best results are typically seen about 12 weeks following treatment. The best part about SculpSure , besides the amazing results, is that the fat cells are destroyed during treatment.
Results may vary.

Fear No Mirror – Freeze the Fat Away with CoolSculpting Fat Reduction Treatment
If you have stubborn areas of fat that you can't seem to get rid of with diet and exercise, we can help. CoolSculpting uses cooling technology to target and kill fat cells with no surgery and no downtime. Plus, with our DualSculpting treatment you can get results in half the time.
Call to schedule your complimentary consultation with Dr. Gould at our Fairfield medical spa.
Watch the video below to learn more about CoolSculpting body contouring and fat reduction .
Results may vary.

From Jason Segel to Simon Cowell and Jon Hamm, lots of male celebrities are now sporting the latest trend for the male physique – the Dad Bod.
Where six-packs that could grate cheese, tree-trunk sized biceps and chiseled chests once ruled, cuddly torsos and flab now rule. According to a blog post that has now gone viral by Mackenzie Pearson the Dad Bod is "a nice balance between a beer gut and working out. The dad bod says, 'I go to the gym occasionally, but I also drink heavily on the weekends and enjoy eating eight slices of pizza at a time.' It's not an overweight guy, but it isn't one with washboard abs, either."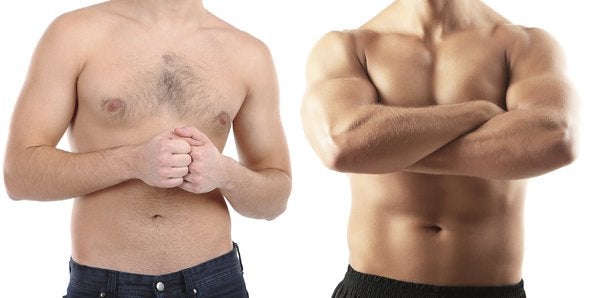 Chiseled, sculpted and rock-hard bods are out – slender, softer torsos are in. Embrace your Dad Bod.
Freeze away your fat to reveal your Dad Bod with CoolSculpting fat reduction and body contouring for men. While bulging muscles are no longer the latest trend in preferred male physique, big beer bellies and excessive flab are still not in either. With CoolSculpting for men you can target stubborn deposits of fat to reveal your sexy, lean Dad Bod.
CoolSculpting is the perfect treatment for achieving Dad Bod as it yields about 25% fat reduction. This is perfect as it can leave you looking fitter and leaner in true Dad Bod fashion. You'll get that perfect Segel/Di Caprio body without having to diet or exercise. In fact, you can get your Dad Bod in a 1 hour treatment with no downtime.
When it comes to Dad Bod, want to look like the guy who occasionally indulges in a beer or slice of pizza – not the guy who indulges in the entire 6-pack and large pizza. Get your fit-looking Dad Bod with CoolSculpting.
Results may vary.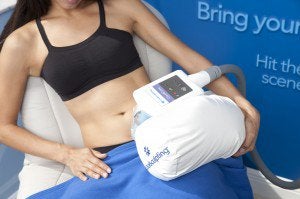 Can you really just freeze the fat away?
With CoolSculpting you can!
CoolSculpting , developed by scientists at the Wellman Center for Photomedicine at Massachusetts General Hospital in Boston, allows you to selectively reduce fat with an innovative cooling process. This technology safely delivers precisely controlled cooling to gently and effectively target your fat cells underneath the skin. During the body sculpting treatment your fat cells are crystallized (frozen) then die. Over time, your body will naturally process the fat and eliminate these dead cells leaving a more sculpted, slimmer you!
CoolSculpting is an FDA-cleared fat reduction technology that safely and effectively contours the body by freezing away unwanted fat for good without surgery or downtime.
How Does CoolSculpting Freeze the Fat Cells?

Many of us have stubborn fat deposits despite endless hours in the gym and strict diets
CoolSculpting utilizes controlled colling (Cryolipolysis) to target and kill only these unwanted fat cells.
In the weeks following treatment, the targeted fat cells will naturally be eliminated from the body.
Results are long-term as the treated fat cells are gone for good.
CoolSculpting is a great way to dissolve your fat cells for good. While weight loss does help you in terms of looking better and getting healthier, it doesn't eliminate the fat cells from your body – it simply makes them smaller. CoolSculpting is a great way to actually reduce the total number of fat cells in the areas you decide to treat. And once those cells are no longer there, they obviously can't get bigger.
If you have unwanted fat deposits on your body, then you are most likely a good candidate for Coolsculpting.
Results may vary.


FREEZE YOUR FAT IN HALF THE TIME WITH DUAL SCULPTING.
Starting in September 2015, Dr. Gould will be offering dual sculpting. Get CoolSculpting treatment in half the time.
With dual sculpting you are able to get treatment with 2 CoolSculpting machines at the same time which means you get the same amazing results in half the time.
Reducing unwanted fat is now even easier and can be done in half the time.
CoolSculpting offers you an FDA-cleared, safe, effective and non-surgical fat loss treatment. You have no scars, no punctures and no downtime which means you receive all the visual benefits of fat remoal with none of the painful or embarrassing side effects that surgical methods can inflict.
Call now to schedule your dual sculpting CoolSculpting appointment with Dr. Gould.
CoolSculpting 101 Animation from CoolSculpting by ZELTIQ on Vimeo .
Results may vary.
Archives
2018
2017
2016
2015