CoolMini Treatment in Fairfield, CT
Clinically Proven to Dissolve Small Areas of Unwanted Fat

Are you looking for a safe, effective and non-invasive way to treat small deposits of unwanted fat?
CoolMini by CoolSculpting can do just that! It's FDA cleared and clinically proven to treat small areas of unwanted fat. All About You Medical Spa in Fairfield is one of the first clinics to offer this amazing new fat reduction treatment. The CoolMini is the newest application using the trusted CoolSculpting by ZELTIQ patented technology and is the perfect solution to targeting smaller areas of concern for lasting fat reduction* (patients typically see a 20-25% reduction in fat in the treated area).
Now you can target smaller areas of fat in our privately dedicated relaxing suite. We offer flexible CoolMini appointment times and consultations with Dr. Gould. We will waive the consultation fee when you book the procedure on the same day as your consultation. Dissolving unwanted fat is easy with CoolMini by Coolsculpting and Dr. Gould.
---
The CoolSculpting® Treatment is the first and only non-surgical fat reduction technology to be FDA cleared for improved appearance of lax tissue after treatment for a double chin. An 18-week study found that 77% of patients visibly showed improved submental tissue laxity.
---
CoolMini can reduce fat in the following areas:
Chin (submental fat)
Knees
Underarm | Armpit Fat
Benefits of CoolMini to Reduce Small Fat Deposits?
Non-invasive fat reduction treatment
No downtime or surgery
Clinically proven & FDA cleared
Reduces small fat deposits gently and effectively
Effective way to target fat deposits on chin, underarms and knees
Noticeable and natural-looking results*
What is the CoolMini Treatment Process?
Dr. Gould personally performs most CoolMini fat reduction treatments after meeting with you to develop a customized aesthetic treatment plan that is right for you. During your consultation, Dr. Gould will discuss your aesthetic goals and expectations and, with your input, design a Treatment to Transformation Plan that is tailored to your budget, timeframe and expectations.
The amount of CoolMini sessions you will need depends upon your goals and needs. Treatment sessions are quick and painless.
Shrink Your Double Chin with Coolsculpting CoolMini Treatment
How Long Does it Take to See Results?
CoolMini patients may see results in as early as 3 weeks following treatment*. The most dramatic results typically occur 1-3 months following treatment*.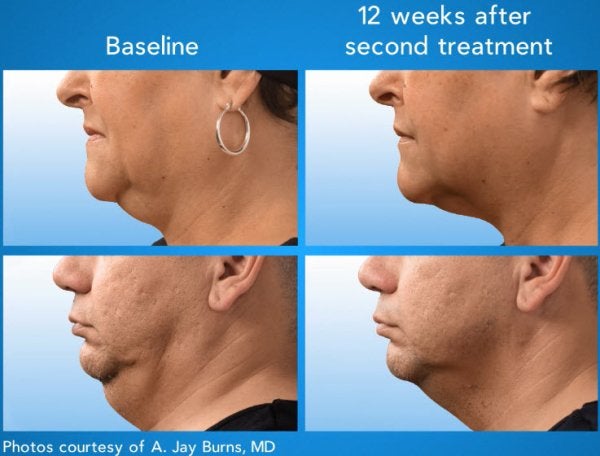 Results may vary.