Frequently Asked Questions About EMFACE
EMFACE Is the Best Facial Toning Device
If you have been looking for an effective way to achieve younger-looking skin but have come up short, consider EMFACE treatment. EMFACE is a non-invasive, needle-free facial treatment that harnesses RF and HIFES technology to achieve smoother skin and toned facial muscles.
Here at All About You Medical Spa, we offer EMFACE facial treatments as an effective means of eliminating wrinkles and achieving a more vibrant look. The technology is new, and some people have never even heard of it, so it's natural to have questions about EMFACE treatment. The best way to get the answers you need is by calling us to schedule a consultation. In the meantime, please review the following frequently asked questions about EMFACE treatments.
EMFACE FAQs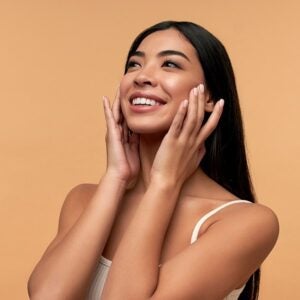 Here at All About You Medical Spa, we want you to feel confident about any aesthetic procedure you are interested in. Your comfort is a top priority for our entire team. That means we will consult with you at length about any treatment you are considering, and that you will find a welcoming and comfortable atmosphere every time you visit us. The great thing about EMFACE is that it is 100% safe and non-invasive. If you are considering EMFACE treatment, take a look at these answers to some of the most common EMFACE questions.
How Does EMFACE Work? – EMFACE is a device that is placed on key areas of the face. The device administers RF (Radio Frequencies) and HIREF energy to smooth out wrinkles and contract key muscles in the face. EMFACE treatments also work by restoring collagen and elastin in the skin with RF technology.
Can Men and Women Benefit From EMFACE? – EMFACE is suitable for both men and women. It can enhance the jawline, which is something many men are interested in, and of course, it smooths out wrinkles, which is a common concern for women.
How Long Is an EMFACE Treatment? – A single EMFACE treatment session lasts between 20 and 30 minutes. Multiple sessions are recommended for the best results, but there is no downtime needed after an EMFACE session.
What Can You Expect From an EMFACE Treatment? – In general, you can expect a 37% reduction in the appearance of wrinkles. Patients also experienced 30% increases in muscle tone. Another common result is an increase in collagen production. EMFACE treatment also has the ability to lift the eyes and achieve a lateral brow lift.
Does EMFACE Treatment Hurt? – Not at all. The device works gently to stimulate the facial muscles so it almost feels like a massage.
Is EMFACE Treatment Right for Me? – Another great thing about EMFACE treatment is that virtually anyone is a candidate. It is totally safe, does not interfere with facial fillers, is safe for people with most kinds of dental implants, and is suitable for both men and women. However, it is advisable to consult with a professional about contraindications.
Achieve the Results You Want
Whether EMFACE is the best option for you, or one of our other professional treatments is the better choice, we want to help you achieve your desired results. Thanks to our comprehensive repertoire of treatments, including laser facial treatments, vitamin infusions, hair loss treatments, facial filler treatments, laser hair removal treatments, and more, we can help you achieve the results you want. Achieve all of your aesthetic goals with our help!
What Sets Us Apart
All Procedures Done by Experienced, Personable Physician
Private, Personalized Services
State of the Art Services
Latest Treatments / Technology
Relaxing Atmosphere
Upscale Service & Treatment
Long Term Planning Based on Individual Needs
Convenient Location Near Metro North
Product Discounts for Existing Patients
Flexible Appointment Times
Pro-Nox Nitrous Oxide Available for Nervous & Anxious Patients