Restylane Injectable Filler Treatment in Fairfield, CT
Get the Lift & Lips You've Been Looking For
INJECTABLE FILLER SPA IN FAIRFIELD, CT SPECIALIZING IN ANTI-AGING TREATMENTS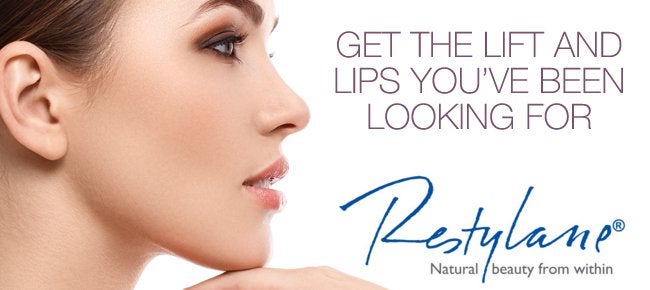 Are you looking to restore volume to smooth wrinkles, shape facial contours and sculpt the lips? Then Restylane is the ideal injectable treatment for you. Restylane enhances your natural look by restoring your skin's volume, creating softness and revitalizing your appearance making you look years younger.
REDUCE FACIAL WRINKLES AND ENHANCE YOUR LIPS WTIH RESTYLANE
Dr. Gould and Restylane can help you fight the signs of aging by restoring fullness while softening moderate to severe facial wrinkles and folds. Dr. Gould has over 15 years in helping patients achieve their aesthetic desires. During your consultation she'll work with you to create a customized treatment plan in her relaxing Fairfield, CT spa. Call now to schedule your consultation.
What Can Restylane Treat?
Restylane is a very flexible injectable filler which means it can be used any place additional volume is desired including:
Lip augmentation
Hollows under the eyes
Tear troughs
Sunken cheeks
Nasolabial folds (lines around the mouth)
RESTYLANE IS THE PREFERRED FILLER FOR NATURAL LOOKING LIP ENHANCEMENTS
What are the Benefits of Restylane?
Quick procedure lasting approximately 30 minutes
Works directly where it is needed
Instant results*
Minimal downtime
Long lasting results – up to 6 months*
Natural and safe
Versatility to meet a wide range of your beauty needs
FDA-approved
Does not affect facial expression or facial movement
What is Restylane?
Restylane is an FDA-approved hyaluronic acid filler that can be used to correct moderate to severe facial wrinkles. This type of injectable filler is designed to work like your body's own hyaluronic acid which leads to immediate smoothing of facial wrinkles. It restores youthful fullness to areas depleted of volume. Since Restylane® contains no animal proteins, which limits any risk of allergic reactions or the transmission of animal-based diseases, there is no pre-testing required.
How Long do the Results Last?
Results vary but on average our patients' results last 6 months*. Longer-lasting results can be obtained in certain areas, such as under the eyes, and with subsequent treatments. Results for this treatment are temporary and must be repeated in order to maintain the effect.
Am I a Good Candidate for Restylane?
The best candidates for Restylane have realistic expectations and are looking for a non-invasive way to improve the signs of age, shape the facial contours, or enhance the lips.
What Makes Restylane Different from Other Injectable Fillers?
Restylane is a safe and effective dermal filler made from hyaluronic acid, a sugar found naturally in the body. Unlike injectables without hyaluronic acid, Restylane can be dissovled quickly with an enzyme called hyaluronidase, usually within 24 hours. While this is not requested often, typically patients feel reassured knowing they can reverse the effects quickly if desired. Restylane also has significantly reduced risks for allergic reactions since it contains no animal proteins.
Can the Results be Reversed if Desired?
Yes. Since Restylane is a hyaluronic acid filler it can be quickly dissolved with an enzyme called hyaluronidase.
Can I Combine Restylane with Other Treatments?
Yes. You can combine various dermal fillers and other cosmetic injectables to treat a variety of facial areas to significantly decrease wrinkles and regain a more youthful appearance. Additionally, different types of fillers can be used synergistically as part of advanced layer techniques.
READY TO GET STARTED?
If you're ready to get the lift and lips you've been looking for then contact Dr. Gould today to schedule your consultation.
During your consultation with Dr. Gould she will work with you to develop a customized treatment plan unique to your wants and needs. Her office is conveniently located in Fairfield near the Metro North train station.
Results may vary.