Silhouette InstaLift™
Non-Surgical Facelift in Fairfield, CT
Immediate Lift. More Volume. Lasting Results. Minimal Downtime.
Are you bothered by visible signs of aging, such as sagging jowls, loss of volume or wrinkled skin? Restore a youthful look without surgery with Silhouette InstaLift™ Nonsurgical Facelift. At All About You Medical Spa in Fairfield, CT we specialize in minimally invasive and non-invasive treatments that have been proven to reverse the signs of aging and restore a youthful glow*. With Silhouette InstaLift™ you get an immediate mid-face lifting effect with gradual stimulation of collagen to produce natural-looking lasting results.
What is Silhouette InstaLift™?
Designed to improve the appearance of the mid-face area, Silhouette InstaLift™ is a non-surgical treatment using threads composed of absorable (dissolving) suture material to uniquely lift sagging skin of the face including jawline and cheek. This procedure provides long-lasting, increased volume and smoothing effects by repositioning the cheeks for people seeking an alternative to traditional surgical facelifts.
Why Silhouette InstaLift™?
Immediate lifting results
Minimal downtime
Convenience of outpatient procedure
Volumization of treated area over time
Long-lasting results
Natural-looking outcome
---
Call (203) 292-5559 today for a consultation to learn more about what Silhouette InstaLift™ can do for you or Request an Appointment online!
---
How Does It Work?
Each Silhouette InstaLift™ procedure is tailored to each patient to address skin laxity in the cheek, jowls and jawline. Typically, 2-4 InstaLift sutures are placed on each side of the face to create the lifting effect achieved from the procedure. The unique "cones" lock and lift the suture, placed underneath the surface of the skin in the fat layer, which creates the lifting of the skin. The tightening effect occurs both immediately and improves further over about a 3 to 6 month period.
Who is an Ideal Candidate?
The ideal patient for Silhouette InstaLift™ non-surgical facelift has
strong underlying bone projections
visible marionette lines
moderate sagging in the mid-face
tissues that can be mobilized during examination
good skin quality (neither too thick or thin)
If you have excessive skin due to advanced aging and thin skin or excessive skin in the mandibular region associated with thick skin or very thin skin with little or no underlying fat you may not be an ideal candidate for this treatment.
Silhouette InstaLift™ Non-Surgical Facelift Results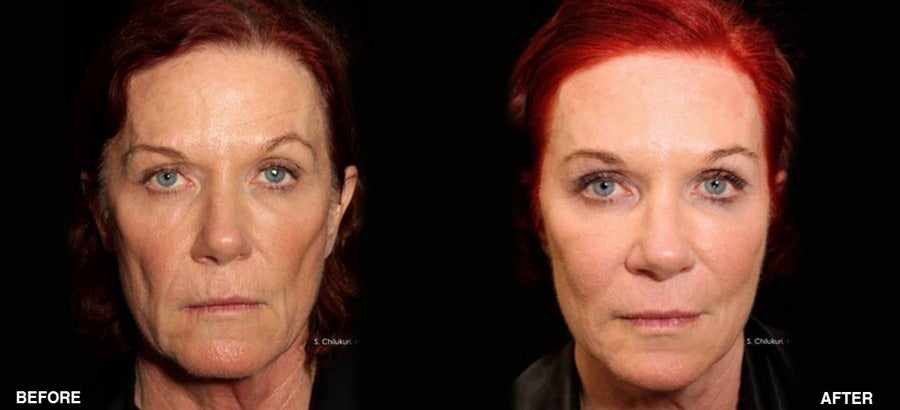 Do the Results Look Natural?
Yes, the results from this procedure look natural. The results help to achieve and recreate the youthful curves to the face, particularly along the cheeks and jawline.
Benefits of a Non-Surgical Thread Lift Compared to Traditional Facelift
For many patients, the biggest advantage of having a thread lift rather than a facelift is the greatly reduced recovery time associated with thread lifts. Following traditional facelifts, most patients require care for at least 3 days and need to take 1-2 weeks off of work in order to heal. Thread lifts are performed under local anesthesia instead of general anesthesia and while some patients experience a bit of soreness, redness and/or swelling following a non-surgical thread lift, most can return to work immediately. Thread lifts are also lower risk compared to traditional facelifts with virtually no risk of scarring, severe bruising, bleeding or other complications after having a thread lift. Plus, they are less expensive than traditional facelifts.
Is Silhouette InstaLift™ an Alternative for a Traditional Facelift?
For most patients,  Silhouette InstaLift™ is not a direct alternative to a traditional facelift but for individuals who have only mild to moderate facial laxity (skin sagging) or those who do not want  a surgical intervention, this treatment might be the ideal choice. With Silhouette InstaLift™ patients get more conservative, less dramatic results than a traditional facelift or necklift. This procedure can be part of a customized treatment plan to achieve proper restoration of facial proportions and balance.
How Much Downtime is there with Silhouette InstaLift™?
With this treatment there is minimal to no downtime. Most patients experience minimal to mild soreness for a day or two and can resume normal daily activities within 24-48 hours, if not the same day. Some patients experience minimal acute inflammatory tissue reaction and minor pain, swelling and bruising.
How Long Does Treatment Take?
Silhouette InstaLift™ takes about 30-45 minutes to complete with minimal discomfort and usually little to no downtime. Patients get an immediate lifting effect and results continue to improve over approximately a six-month period as the suture and cones are naturally broken down and eliminated by the body, stimulating collagen in the areas of placement*.
Call (203) 292-5559 now to schedule your consultation!

*Results are typical but not guaranteed. Results may vary.
What Sets Us Apart
All Procedures Done by Experienced, Personable Physician
Private, Personalized Services
State of the Art Services
Latest Treatments / Technology
Relaxing Atmosphere
Upscale Service & Treatment
Long Term Planning Based on Individual Needs
Convenient Location Near Metro North
Product Discounts for Existing Patients
Flexible Appointment Times
Pro-Nox Nitrous Oxide Available for Nervous & Anxious Patients