Acne Treatment in Fairfield, CT
Because You Deserve Clear, Beautiful Skin
More than 80 percent of pre-teens and teens have acne, as do many adults who incorrectly thought their acne years were behind them. Many people believe that acne treatment is simply finding the right way to keep your skin clean, but several factors can cause blemishes. Acne involves more than just pimples. It's a chronic, inflammatory skin disease that can strike teens as well as adults.  In order to have beautiful, flawless skin, you need to use treatments that target the specific cause of your particular type of acne. All acne is not, actually, created equal which is why we offer multiple treatment options to help clear and reduce acne.
Acne Treaments
As there is no one-size-fits-all solution when it comes to acne, we offer multiple treatment options at our medical spa.
Chemical peels
Deep facials
---
---
Forever Clear BBL for Acne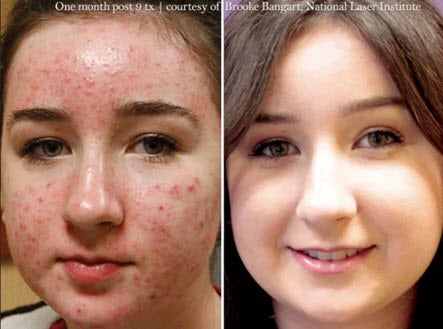 Get rid of acne at the speed of light. Now, prescription medication and over-the-counter remedies can be a thing of the past. Why deal with the wait and potential side effects of those options when you can have clearer skin in typically just a few short treatments?  Forever Clear BBL, the world's most powerful IPL (intense pulsed light), is a cutting-edge acne treatment that uses the power of light to comfortably and effectively clear acne without creams or medicine. This treatment is great for both teens and adults.
Benefits of Forever Clear BBL include
Non-invasive treatment
Quick and easy
Virtually painless
No downtime
FDA-cleared
Forever Clear BBL treats acne deep within the skin. Intense Pulsed Light of this magnitude can only be found in a physician's office. Forever Clear BBL is an effective, comfortable, fast, and safe treatment.
---
HydraFacials for Acne
Get a clearer and smoother complexion with a HydraFacial. This non-invasive skincare procedure is widely recognized as a safe and effective way to combat acne using patented Vortext technology to rid the skin of acne-causing and pore-clogging agents. Plus, it diminishes hyperpigmentation and scarring. The procedure is completed in four steps, takes approximately 30 minutes, and requires zero-downtime.
---
Chemical Peels
Beauty experts have been using chemical peels to heal the skin for thousands of years and they are a great treatment for acne. Chemical peels lift dead skin off the surface of the skin. This makes room for more skin cells to migrate upward to the surface of the skin from the basal layers below. These younger skin cells have more natural skin tones than the dead skin cells they replace. They are smaller, so the skin is not as tight. This gives pores more room to drain so they don't clog with dead skin cells and sebum.
To learn more about our treatment options for acne, give our medical spa a call to schedule a consultation so we can determine the best treatment regimen for your acne.
Call (203) 292-5559 today for a consultation.
What Sets Us Apart
All Procedures Done by Experienced, Personable Physician
Private, Personalized Services
State of the Art Services
Latest Treatments / Technology
Relaxing Atmosphere
Upscale Service & Treatment
Long Term Planning Based on Individual Needs
Convenient Location Near Metro North
Product Discounts for Existing Patients
Flexible Appointment Times
Pro-Nox Nitrous Oxide Available for Nervous & Anxious Patients