CoolSculpting® Treatment in Fairfield, CT
Non-Invasive Body Fat Reduction & Removal in CT
WE WILL BEAT ANY COMPETITORS WRITTEN COOLSCULPTING PRICE BY 10%
Fear no mirror, no swimsuit, nor form-fitting dress!
Dr. Gould has performed more CoolSculpting procedures than any other doctor in CT!
Many of us have stubborn fat despite diet and exercise, but most of us do not want to undergo invasive procedures to lose it, either! With CoolSculpting® you reduce stubborn fat without surgery or downtime. Patients typically see a 20-25% fat reduction in the treated area*.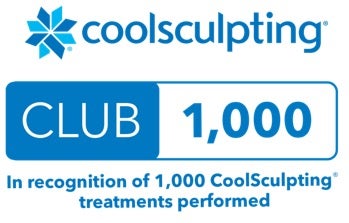 CoolSculpting® by Zeltiq is the latest FDA-cleared, non-invasive one-of-a-kind procedure with one-of-a-kind long-lasting results for fat reduction*. With over a million procedures performed to date, the procedure has proven itself to be a safe and effective way to significantly dissolve unwanted fat.*
Here are just a few of the benefits of CoolSculpting:
Non-invasive procedure
Reduces fat gently and effectively*
Noticeable and natural-looking results
An effective way to target specific areas of fat such as love handles
No surgery, no anesthesia, no downtime
Low-risk procedure
Few reported adverse reactions or outcomes
Areas We Treat Using CoolSculpting
Abdomen
Thighs
Under the chin or upper neck
Flanks/love handles
Under the armpit
Back
Buttocks and under the buttocks
Thighs
CoolSculpting® shapes what you see without surgery or downtime, so you will look your best from every angle. CoolSculpting® technology safely delivers precisely controlled cooling to gently and effectively target fat cells underneath the skin while leaving the skin itself unaffected. The treated fat cells are crystallized (frozen) and then die. Over time, your body naturally eliminates them, leaving a more sculpted you.
---
Call (203) 292-5559 today for a consultation to see what CoolSculpting® can do for you or Request an Appointment online!
We are a participating practice with Brilliant Distinctions.

---
For those who may feel nervous or anxious about the procedure, we now offer Pro-Nox (laughing gas). This helps people tolerate any discomfort they may feel with CoolSculpting®. It is only available at select practices with physicians on-premises. We offer this add on to help you feel as comfortable as possible during the treatment.
Dr. Gould has performed more Coolsculpting® treatments than any other local doctor or body sculpting center in Fairfield County.
WE WILL BEAT ANY COMPETITORS WRITTEN COOLSCULPTING® PRICE BY 10%