truSculpt® iD in Fairfield, CT
The Next Evolution in Body Sculpting
Historically, when we think about body sculpting, we think of uncomfortable procedures like liposuction that may not always have the results that we are looking for. Thanks to recent research and technology, our Fairfield medical spa has a solution – truSculpt® iD. This is the latest way to get the body that you want. This powerful, non-invasive, Monopolar RF treatment treats the entire fat layer resulting in an average of 24% fat reduction*.
If you diet and exercise but still have areas of stubborn fat, truSculpt® iD, our premier body sculpting treatment, is clinically proven to reduce fat cell regardless of your shape or body type!
Benefits of of TruSculpting:
Non-surgical body sculpting treatment
Safe and effective technology
Selectively targets fat to reduce fat in treated area up to 24%* in a single treatment
15 minute treatment
Treats any area where fat accumulates
No need for anesthesia
No recovery time
Fast results
Minimal discomfort – compared to hot stone massage
How is truSculpt® iD Different from Other Body Sculpting Treatments?
It's a versatile and effective procedure that treats a wide range of patients who may not be a good candidate for other contouring procedures due to treatment location, skin type, fat thickness and presence of skin laxity
Treatment time for abdomen and flanks is typically 15-30 minutes
Typically, only a single treatment is needed with maximum results visible after 12 weeks*
Dr. Gould will work closely with you if you decide if this procedure is beneficial for you. She will walk you through all the steps it may take to have the perfectly contoured body that you want during your consultation.
How Does It Work?
truSculpt® iD uses innovative RF technology to deliver heat to the entire fat layer while maintaining a comfortable skin temperature. This technology utilizes the exact temperature needed to irreversibly damage fat cells in the treated area which are then eliminated from the body. It's ideal for treating stubborn, localized fat pockets.
---
Call (203) 292-5559 now to schedule your consultation with Dr. Gould.

---
TruSculpting Results
Who is a Good Candidate?
Most men and women with stubborn areas of fat are a good candidate for this treatment.
How Long Does the Treatment Take?
The procedure time depends on the size and number of treatment areas. Typically the treatment takes 15-30 minutes to treat the abdomen and flanks.
Does It Hurt? What Does truSculpt® iD Feel Like?
Most patients describe the feeling during their truSculpt® iD treatment like a hot stone massage. During the procedure, the temperature of your skin will rise but remain comfortable. It's effective, safe and the results are even and consistent.
When Will I See Results?
Patients see results after a single treatment with maximum results visible about 12 weeks after treatment. In order to achieve your individual desired results, additional treatments may be needed.
How Does truSculpt® iD Compare to CoolSculpting?
A few reasons to choose of truSculpt® iD
treats non-pinchable fat
treats skin with laxity
able to treat patients with a BMI over 30
comfortable like a hot stone massage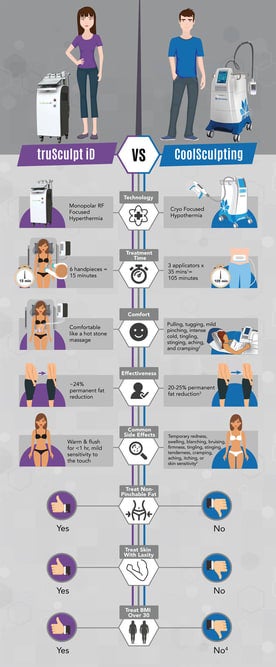 Call (203) 292-5559 now to schedule your consultation with Dr. Gould.

What Sets Us Apart
All Procedures Done by Experienced, Personable Physician
Private, Personalized Services
State of the Art Services
Latest Treatments / Technology
Relaxing Atmosphere
Upscale Service & Treatment
Long Term Planning Based on Individual Needs
Convenient Location Near Metro North
Product Discounts for Existing Patients
Flexible Appointment Times
Pro-Nox Nitrous Oxide Available for Nervous & Anxious Patients