Laser Hair Removal Treatment in Fairfield, CT
Reduce Unwanted Hair for Good*!
Almost everyone has unwanted hair somewhere on their body. Unfortunately, traditional hair removal routines can be tedious, painful and expensive over time. Shaving may last a day, waxing a couple of weeks, but none of them last forever—and therein lies the true beauty of laser hair removal. For people who are tired of shaving, tweezing, and waxing to remove unwanted hair, laser hair removal has become the preferred option and continues to be the #1 requested energy-based aesthetic treatment. It's time you get lasting hair removal results.
All About You offers laser hair removal using the premiere Cynosure Elite Plus Laser station, consistently voted the best laser for hair removal by professionals for the past 10 years. This machine can treat all skin types and most hair color. Dr Gould uses a Zimmer Cooler fan along with the laser so that your treatment is as comfortable as possible.
Laser Hair Removal Treatment Results*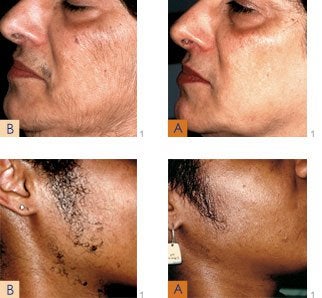 Results may vary.
Say Hello to Smooth, Sexy Skin!
Our laser hair removal treatments can remove hair in the following areas:
Arms
Bikini
Facial
Eyebrow
Body
Leg
Chest
Back
No More Bumps, Stubble or Irritation
With laser hair removal treatment you can enjoy smoothness on any area of the body without the irritation and discomfort caused by waxing and shaving. Our licensed, medical professional can help you remove unwanted hair anywhere on your body. Our treatments typically are about 30 to 60 minutes.
How Much Does It Cost?
In order to be effective, laser hair removal treatment requires multiple sessions. There are no short cuts for this process if you want to remove your unwanted hair. During each treatment a progressive percentage of hair is removed until the skin becomes smooth and hair free. Our laser hair removal packages are include pricing through the completion of the process.
What Are The Benefits of Laser Hair Removal?
Laser hair removal is the fasts growing cosmetic procedure in the U.S. and for good reason. It effectively removes unwanted hair with only minimal discomfort*. Both men and women can use this treatment to remove unwanted hair regardless of the location on the body.
Waxing, plucking, and shaving can also remove unwanted hair but only provides temporary relief from unwanted hair. Laser hair treatment works to achieve the same goal but with great precision and lasting results. Unlike shaving, waxing and plucking, laser hair removal does not continue to use up your valuable time. After only a few sessions, you have smooth skin which requires no time to maintain.
Call now to schedule your laser hair removal treatment with Dr. Gould in our upscale, relaxing treatment center in Fairfield, Connecticut conveniently located near the Metro North train station.
Results may vary.
What Sets Us Apart
All Procedures Done by Experienced, Personable Physician
Private, Personalized Services
State of the Art Services
Latest Treatments / Technology
Relaxing Atmosphere
Upscale Service & Treatment
Long Term Planning Based on Individual Needs
Convenient Location Near Metro North
Product Discounts for Existing Patients
Flexible Appointment Times
Pro-Nox Nitrous Oxide Available for Nervous & Anxious Patients