CoolSculpting® Done Right?
Read these CoolSculpting FAQs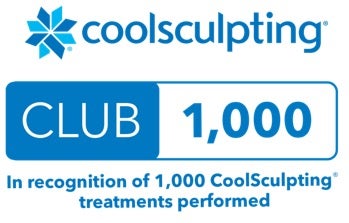 We are always trying to improve our bodies and medical research and information has provided people in the modern age with many different routes to getting the body they want. While diet and exercise can play important roles in the way people's body's look and feel, there are areas of the body that can be stubborn and not prone to change.
These areas of the body store fat in a way that makes regular diet and exercise changes difficult to help change, and that's where CoolSculpting® comes in. For years, Doctor Christine Gould has been Connecticut's leading expert in the field of CoolSculpting®. If you want the best nonsurgical fat treatment consultation and CoolSculpting® services, All About You Medical Spa is your answer. Call today for more information on our treatment options, pricing, and how to book an appointment. We look forward to being a partner in helping you reclaim your body and feel beautiful, every single day.
CoolSculpting® FAQs
What Is CoolSculpting®?
CoolSculpting® is a nonsurgical procedure that helps to freeze stubborn fat from areas of the body that do not respond to diet and exercise alone. It is the only FDA approved procedure that uses a controlled cooling technique to successfully destroy fat from various parts of your body. The entire staff at All About You Medical Spa is well trained to help, but what sets us apart is Dr. Gould's hands-on attitude – she performs most of the procedures herself, unlike other medical spas where technicians provide the service.
CoolSculpting Testimonial Video
What Does CoolSculpting® Fat Removal Cost?
The cost of CoolSculpting® varies depending on the areas of concern and the number of sessions needed, and your treatment goal. We will help create a customized treatment plan that is tailored to your body, your goals, and your budget. Dr. Gould has personally performed the most CoolSculpting® procedures in the state. It's time to see what everyone is raving about!
What Does CoolSculpting® Treatment Feel Like?
During your CoolSculpting® session, a gel pad and applicator are applied to the target area. The applicator uses a vacuum to draw the tissue into the applicator c, as a result,lt you may feel pulling, tugging or mild pinching. Then controlled cooling is delivered to the targeted fat. You may feel intense cold but this sensation typically resides within 10 minutes as the area becomes numb. During treatment may people read, take a nap or check their nap. Following treatment, most patients are able to return to normal activities.
What Happens to the Fat?
During treatment, your targeted fat cells are killed and in the weeks that follow your body naturally processes the fat and eliminates these dead cells.
While this treatment does dissolve fat cells in the body, keep in mind that it does not dissolve 100% of the fat cells in the treated area.
How Is It Nonsurgical?
By implementing careful and controlled cooling mechanisms, CoolSculpting® freezes fat with no surgery, no needles, no invasive techniques, and no downtime! While CoolSculpting is not for treating obese patients, CoolSculpting® services are perfect for those tough to reach areas – a double chin, stubborn belly and leg fat, and more.
What Should A Patient Expect?
While CoolSculpting® is unique because it is noninvasive, it is perfectly normal to experience a tingling, intense cold feeling during the procedure. Aching and cramping are also normal. There will be some irritation on the skin and swelling after the treatment has been completed, and this is a normal part of the process.
Does It Really Work? How Soon Will I See Results?
Yes – CoolSculpting® treatment has a 95% patient satisfaction rate. Dr. Gould will work with you to create a customized treatment plan that is tailored to your specific goals. The most dramatic results are usually seen 1-3 months after treatment and some patients see results as soon as 3 weeks afer their session*.
CoolSculpting® – The Future Of Fat Reduction
As with any procedure, it is important to remember that CoolSculpting® is not for everyone. While certain types of fat respond well to it, there is never a 100% guarantee that the procedure will always work. Some patients get results from one CoolSculpting® session while others require several sessions. There is no perfect formula for determining the level of CoolSculpting® treatment needed because each body is different and has different needs. As with any procedure, results may vary. Call today for more information.
What Sets Us Apart
All Procedures Done by Experienced, Personable Physician
Private, Personalized Services
State of the Art Services
Latest Treatments / Technology
Relaxing Atmosphere
Upscale Service & Treatment
Long Term Planning Based on Individual Needs
Convenient Location Near Metro North
Product Discounts for Existing Patients
Flexible Appointment Times
Pro-Nox Nitrous Oxide Available for Nervous & Anxious Patients