Daxxify Treatments in Fairfield, CT
Ready to say goodbye to fine lines and wrinkles? At All About You Medical Spa in Fairfield, CT, we offer the latest injectable treatments to help you achieve a more youthful, natural-looking appearance. Our experienced team of medical professionals is proud to offer Daxxify, an FDA-approved neuromodulator clinically proven to reduce the appearance of frown lines and crow's feet. With our personalized approach to care, we'll work with you to develop a customized treatment plan that meets your unique needs and goals.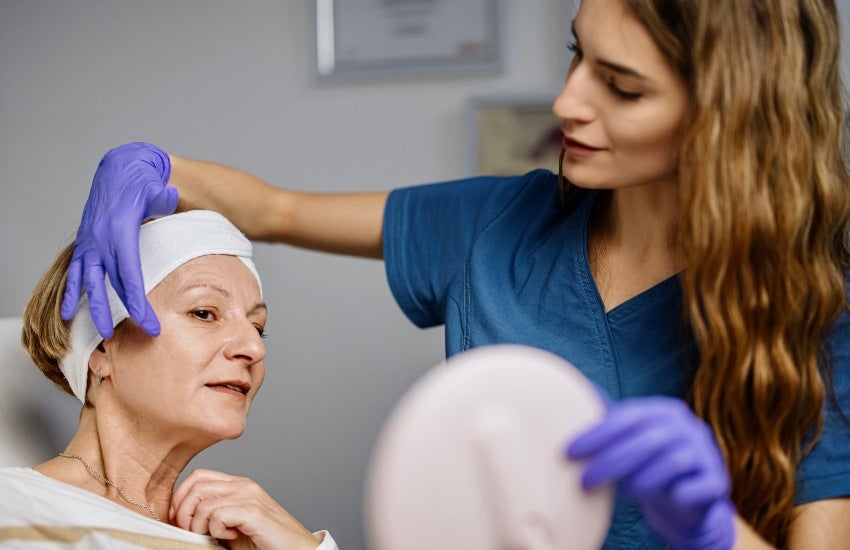 What Is Daxxify?
Neurotoxins, such as Botox and Daxxify, are a class of medications that work by blocking signals from nerves to muscles. They contain a minute amount of botulinum toxin, which, when injected into underlying muscles, causes them to relax and reduce the appearance of wrinkles in the overlying skin.
Daxxify, in particular, has several unique properties that make it stand out from other neurotoxin wrinkle reduction methods. Its duration of effectiveness is longer, lasting up to six months, compared to three to five months for most other products. Additionally, it does not contain any human or animal products. It is instead made from peptides or amino acids, which may help it last longer as a wrinkle smoother than other neurotoxins. It also does not require refrigeration, making it easier to store.
Benefits of Daxxify
One of the key benefits of Daxxify is its increased longevity compared to other neuromodulators, which means that patients can enjoy smoother skin for longer before needing another treatment. Additionally, Daxxify is made from peptides or amino acids rather than human or animal products, which reduces the likelihood of allergic reactions in patients. Daxxify also provides customizable treatment options based on each patient's individual needs. Dermatologists can adjust the amount and placement of the injections to achieve the desired results, whether that is reducing fine lines around the eyes or smoothing deep wrinkles on the forehead. The treatment is also safe and minimally invasive, with few side effects and a quick recovery.
Is Daxxify Right for You?
The ideal candidates for Daxxify are individuals who are at least 18 years old, in good general health, and seeking to reduce the appearance of wrinkles and fine lines, particularly frown lines on the brow. Many individuals are concerned about the visible signs of aging, such as wrinkles and fine lines caused by factors such as aging, sun damage, and repetitive facial movements. Daxxify can help meet their needs and goals by providing natural-looking, long-lasting results that restore a more youthful appearance to the treated areas.
The Daxxify Procedure
A qualified facial plastic surgeon will conduct a thorough facial assessment to determine the appropriate injection site and dosage to meet your specific needs. They will then use a small needle to inject the Daxxify formula directly into the targeted area. The entire procedure usually takes about 5 to 15 minutes, and you can immediately resume your daily routine. The most commonly observed side effects of Daxxify injections include headaches, temporary loss of muscle movement in the facial area, and drooping eyelids.
Results & Testimonials
"Incredible service and staff. Dr. Gould is amazing. She goes out of her way to make sure you are happy." – Ana C.
"Dr. Gould always gives the best care and takes the time to answer any questions. She also provides the best treatments, and I am always happy with my results." – Tone L.
At All About You Medical Spa, we believe in providing our clients with a personalized treatment experience. Our team of highly trained professionals takes the time to understand each client's unique needs and goals, and we work with them to create a customized treatment plan that addresses their specific concerns.
Contact All About You Medical Spa
At All About You Medical Spa, we understand that you want to look and feel your best. Our Daxxify services can help you achieve smoother, more youthful-looking skin without surgery or downtime. If you want to learn more about our Daxxify treatments or schedule a consultation, please contact us. Our skilled professionals will work with you to create a customized treatment plan that meets your unique needs and goals. Let us help you enhance your natural beauty and regain your confidence. Contact us and take the first step towards a more radiant, refreshed appearance.
What Sets Us Apart
All Procedures Done by Experienced, Personable Physician
Private, Personalized Services
State of the Art Services
Latest Treatments / Technology
Relaxing Atmosphere
Upscale Service & Treatment
Long Term Planning Based on Individual Needs
Convenient Location Near Metro North
Product Discounts for Existing Patients
Flexible Appointment Times
Pro-Nox Nitrous Oxide Available for Nervous & Anxious Patients