DiVa Laser Vaginal Therapy in Fairfield, CT
Trusted Vaginal Rejuvenation in Fairfield, CT
HELPING WOMEN FEEL MORE LIKE THEIR VITAL, SENSUAL SELVES
Do you suffer from vaginal dryness, decreased feelings of friction, loss of sexual satisfaction during sexual intercourse or urinary incontinence?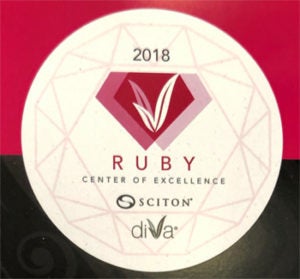 Millions of women suffer from vaginal laxity and/or vaginal looseness especially postmenopausal women. Other common nagging symptoms include vaginal dryness and atrophy to mild urinary incontinence and pain with intercourse. But you don't have to resign yourself to living the rest of your life in perpetual discomfort.
DiVa laser vaginal rejuvenation is an FDA-cleared treatment that increases the thickness and elasticity of the vaginal wall, increases vaginal moisture and increases sexual satisfaction. Plus, DiVa has also been proven to improve low to mid-levels of urinary stress incontinence, or USI.
What is diVa Rejuvenation Therapy?
This new technology from Sciton was created to help increase vitality and sensuality in women. DiVa's breakthrough laser resurfacing procedure increases thickness and elasticity of the vaginal wall, and boosts vaginal moisture to invite greater sexual satisfaction.
Let's be honest – the thought of getting a laser treatment on the most sensitive part of your body might make you reflexively cross your legs but the DiVa laser vaginal treatment only lasts 3 minutes and most patients only report mild pain and discomfort. Patients have stated that the mild pain/discomfort is worth it for what it gives back to them.
DiVa Laser Vaginal Therapy Helps Treat 
Stress urinary incontinence (SUI)
Vaginal atrophy
Diminished vaginal lubrication
Diminished vaginal sensation
Problems with orgasm
Pain during sex
Vaginal laxity
Decreased vaginal muscle tone
What are the Benefits of DiVa Vaginal Rejuvenation Treatment?
Increased vaginal moisture
Increased sexual satisfaction
Enhanced ability to reach orgasm
Decrease in pain during intercourse
Increase in vaginal tightness
Improved low to mid-levels of urinary stress incontinence
3-5 minute in-office procedure
No downtime – return to regular activities the same day
No anesthesia necessary
Virtually painless
Long-lasting results
How Does DiVa by Sciton Work? 
DiVa Laser Therapy addresses a woman's most intimate challenges. DiVa utilizes Halo's cutting-edge hybrid fractional laser technology to provide independent levels of ablation and coagulation, allowing for customization in treatment tailored to your desires. High-precision automation technology increases safety and consistency in treatment.
The laser treatment activates the body's own healing mechanism by making a series of tiny holes in the tissue, which then stimulate the body to grow new tissue to heal these tiny wounds. The therapy is intended to boost collagen levels and elasticity. It can also increase the blood supply to the area, which can help restore lost sensation.
What Should I Expect?
While many alternative laser vaginal therapies take over a half an hour to perform, a diVa treatment will take only 3 to 5 minutes. During your treatment, the diva handpiece is placed within the vagina using an ergonomically designed quartz dilator. The dilator stays there while the handpiece rotates throughout, spreading laser energy. Dr. Gould works with you directly to assess your treatment desires, so we can use diVa to achieve them holistically and safely.
Data show that women experience 70% to 80% improvement in vaginal dryness that lasts 12 to 18 months after a series of three monthly laser treatments. The data also show 60% to 70% improvement in urinary symptoms, such as urgency, frequency, and stress incontinence (leakage of urine that typically occurs when a woman coughs or sneezes). Women have also seen improvements in orgasmic function.
The results of your diVa treatment will have you feeling years younger and revitalized. Women who undergo this laser vaginal therapy often are more confident with their partners and enjoy higher levels of self-confidence.
*Results may vary.