Experience Laser Facial Treatment Benefits in Fairfield, CT
What is a Laser Facial Treatment?
Lasers have many uses, including cosmetic procedures. Lasers can provide ablative and non-ablative treatments, with ablative treatments removing some tissue or skin. Laser facial treatment uses a laser designed specifically for cosmetic applications to reduce the appearance of wrinkles, sun damage, skin discolorations, unwanted hair, and other undesirable conditions. Laser facial treatment benefits also include increased collage production, which helps the skin look younger.
At All About You Medical Spa in Fairfield, CT, we offer laser facial treatments like BBL, Elite+, Picosure, and SmartSkin. When you work with us, you're choosing an experienced team headed by Dr. Christine Gould, who works with each patient to develop a personalized plan. Contact us for more information on facial laser treatments.
Which Laser Treatment is Most Effective for Skin Tightening?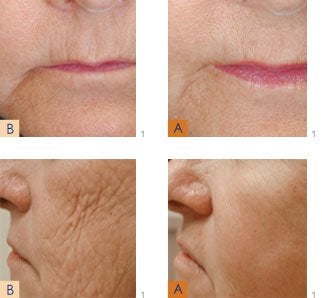 The SmartSkin laser treatment is one of the newest methods available to treat skin conditions, including sagging skin. This cutting-edge technology uses a fractional CO2 laser to resurface and rejuvenate the skin. SmartSkin technology is partially ablative, so it removes a small portion of skin to allow newer, healthier skin to emerge. It's a versatile treatment that's especially useful for difficult to reach areas. With SmartSkin, patients can expect to see significant improvements to loose skin around the eyes as well as to crow's feet wrinkles. It can also treat age spots, pigmentation issues, dark circles under the eyes, stretch marks, and scars.
Can Laser Treatments be Paired with Other Treatments?
To understand which procedures can be paired with laser facial treatment, it's vital to consult with a knowledgeable physician who can offer professional guidance. While many forms of treatment can be combined with laser treatments, some have better outcomes when done separately. At All About You Medical Spa, patients work closely with Dr. Gould to achieve the best results from their treatments. At each step, our team will help you choose the most effective treatments to improve your skin's appearance. Contact us for more details.
How Long Will the Results of Laser Hair Removal Last?
If you shave, wax, tweeze, or use some other form of hair removal like a depilatory, you know how quickly hair grows back. Laser hair removal provides a long-lasting solution to unwanted hair. During laser hair removal, the process affects the hair follicle. This decreases the follicle's ability to grow hair. While laser hair removal isn't fully permanent, it does provide smooth skin for a much longer period than traditional hair removal methods. Each individual will experience different results. When hair does grow back after laser removal, it's usually lighter and thinner than it was initially. Regular maintenance with laser treatments easily takes care of any re-growth.
Contact All About You Medical Spa in Fairfield, CT
Laser facial treatments can help correct numerous conditions, from scars to unwanted hair. Lasers have become a standard treatment for many cosmetic purposes, and having a reputable, experienced provider is the key to achieving the best results. At All About You Medical Spa, patients work with our helpful, compassionate team members to develop a plan for treatment that helps them achieve a healthier, more youthful appearance. We're there for you at every step of the process, from understanding your laser facial treatment cost to knowing what to expect after your procedure. Contact us today for more information, or to schedule a consultation.