Emsculpt vs CoolTone
Body Sculpting and Muscle Building Treatments
Build Muscle, Sculpt Definition & Tone Your Body with Emsculpt CoolTone – But Which is Right for You?
Are you looking for a way to safely and effectively sculpt your body and build muscle without the need for surgery or a gym? The great news is there are now non-invasive cosmetic treatments that can help you spot reduce fat and build muscle. In fact, there are now two treatments designed to specifically to burn fat and build muscle mass – EMSCULPT and CoolTone. 
But how do you know which of the treatments is the right treatment for you?
EMSCULPT vs CoolTone
Benefits of Both Treatments | What's Similar
Here is what both the treatments have in common:
Body sculpting treatment designed to improve muscle tone
Non-surgical alternative to a butt lift
Improves muslce in the abdomen, buttocks, thighs and arms
Quick 30 minute treatments
Strengthens, firms and tones muscles
Great for men and women
No downtime
Pain-free non-invasive body contouring treatment
FDA-cleared
How EMSCULPT Works
The non-invasive HIFEM® procedure induces powerful muscle contractions not achievable through voluntary contractions. When exposed to strong contractions, the muscle tissue is forced to adapt to such extreme condition. It responds with a deep remodeling of its inner structure that results in muscle building and sculpting your body.
EMSCULPT contracts muscles beyond what is possible through physical training, yielding better muscle tone and enhanced fat metabolism. These results are backed by 7 clinical studies, showing fat loss as well as defined and sculpted muscles to the abdomen and buttocks following a series of 4 treatments.
HIFEM – High Intensity, Focused Electro Magnetic energy, meaning EMSCULPT produces magnetic energy that creates "supramaximal" muscle contraction. It uses a series of different patterns of muscle contractions during
treatment to stimulate muscle work beyond what you can get through a personal trainer with strength training alone. A single EMSCULPT treatment is the equivalent of doing approximately 20,000 sit ups or squats.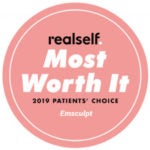 On average, the following results by EMSCULPT were achieved in clinical studies on healthy patients:
19% reduction of fat*
4 cm (1.5 inches) loss in waistline circumference*
16% increase in muscle mass*
11% reduction in abdominal muscle separation (called diastasis recti)*
5 x increase in fat metabolism (apoptotic index increased from 19% to 92% after treatment)*
80% patients with visible lifting effect of buttocks*
96% patient satisfaction*
How CoolTone Works
CoolTone was developed by Allergan, a leading medical aesethetics company who also offers CoolSculpting, to compete directly against EMSCULPT by BTL. CoolTone's Magnetic Muscle Stimulation, or MMS technology, penetrates through the skin and fat layers to target only the muscle layer, inducing involuntary muscle contractions. The body's response to these contractions is to strengthen its muscle fibers, resulting in improved muscle conditioning. After treatments, abdomen, buttocks, and thighs are firmer and have a more defined and toned appearance.
Both treatments utilize a similar method for reducing fat and stimulating muscle growth but CoolTone has about 50% more magnetic intensity which is measured in tesla (T) at the point of patient contact (0.9T with EMSCULPT compared to 1.35T with CoolTone). But the clinical significance of this data has not been established.
Our Recommendation
Released over a year ago, Emsculpt was one of the first muscle building devices on the market.  Not only have we seen great results with EMSCULPT but we love that they have 7 clinical studies with over 200 patients on the abdomen and buttocks to back up the results of their treatment.
To achieve the desired results of our patients, we may recommend combining EMSCULPT with treatments like CoolSculpting which can be performed together.
---
Why Choose Dr. Gould and the team at All About You Medical Spa in Fairfield, CT for your EMSCULPT treatment?
Dr. Christine Gould was one of the first physicians to offer EMSCULPT and CoolSculpting to her patients which means she has the knowledge, experience, and expertise to deliver appropriate and meaningful results.
Call (203) 292-5559 now to schedule your consultation!

*results may vary.
What Sets Us Apart
All Procedures Done by Experienced, Personable Physician
Private, Personalized Services
State of the Art Services
Latest Treatments / Technology
Relaxing Atmosphere
Upscale Service & Treatment
Long Term Planning Based on Individual Needs
Convenient Location Near Metro North
Product Discounts for Existing Patients
Flexible Appointment Times
Pro-Nox Nitrous Oxide Available for Nervous & Anxious Patients