Medical Spa & Anti-Aging Treatments in Fairfield
Get the Personalized Care Your Skin Deserves
At All About You Medical Spa, we offer a wide range of treatments to enhance your appearance. All of these treatments will help you to look and feel both younger and healthier. As our patient, you can also take advantage of our flexible appointment times and financing options!
Most of our treatments are done by our highly trained and experienced doctor, Dr. Christine Gould.
Call (203) 445-6869 today to schedule a consultation or Request an Appointment online.
All About You Medical Spa Treatments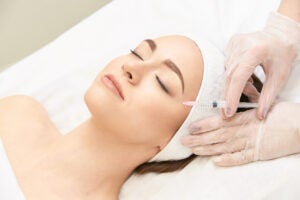 Skin Tightening and Skin Resurfacing
---
Skin Care Treatments
---
Botox and Dermal Fillers / Injectables
---
Face & Body Sculpting, Fat Reduction, and Muscle Toning
---
Sun Damage and Sun Spot Removal
---
Sexual Health and Therapy
---
Hair Loss Treatment
---
WHY CHOOSE ALL ABOUT YOU MEDICAL SPA?
"If I could give Dr. Gould 100 stars, I would!! She is absolutely incredible, and you could not pay me to go to anyone else. My skin honestly looks better now at 38 than it did when I was 20, thanks to her. She is an expert & was a surgeon, so Dr. Gould has more medical training & experience than anyone else offering these treatments. That's one of the reasons I trust her so completely. Dr. Gould is also a perfectionist & she takes all the time you need, including explaining the process or technology involved.
Dr. Gould invests in the newest machines and treatments as well. She has SculpSure, CoolSculpting, Profound (skin tightening), BBL lasers, Halo (another amazing laser), Ultherapy, & even the rare Sunetics laser for hair growth (it also thickens hair). She has all the fillers you could possibly need as well: Botox, Bellafill, Juvederm, Radiesse, & many more. Every time I go into her office, she has a new machine or treatment, and then I am forced to save up more money again so I can try it!! =) I have been going to Dr. Gould for years & I am so thankful I found her when I did. You will not be disappointed!!"
– Jaclyn S.
"Dr. Gould and her practice is a hidden gem, and no words to describe how amazing the whole team is."
– Gail R.
"I wish I could rate more than 5 stars! Christine is amazing and the best of the best! She is honest, so nice and actually cares about her patients. Other specialists I've encountered they're in it just for the money but Christine is the opposite. She is so intelligent and so compassionate and I recommend anyone and everyone to her. I had coolsculpting done on my belly by her and can see the results already a day later. Her pricing is by far the best and competitive against others. The whole group at this medical spa are the best. They're all so friendly and everyone there made my overall experience more than excellent.
After just about 9 weeks, my results are AMAZING!"
– Emily V.
---
If you are interested in any of the above treatments, feel free to call our office at (203) 292-5559. We look forward to helping you feel great and look younger!

We have a highly experienced team that is able to create customized treatment plans based on each client's unique desires and goals. In order to help our clients get the best results, we are constantly adding new treatments to our offering and focus on utilizing the latest treatments and technology.
What Sets Us Apart
All Procedures Done by Experienced, Personable Physician
Private, Personalized Services
State of the Art Services
Latest Treatments / Technology
Relaxing Atmosphere
Upscale Service & Treatment
Long Term Planning Based on Individual Needs
Convenient Location Near Metro North
Product Discounts for Existing Patients
Flexible Appointment Times
Pro-Nox Nitrous Oxide Available for Nervous & Anxious Patients