Picosure Laser Tattoo Removal treatment in Fairfield, CT
Laser Tattoo Removal & Skin Treatment
Only PicoSure Tattoo Removal in Fairfield County, CT
Are you looking to remove an unwanted tattoo or reduce and remove the appearance of brown spots, freckles, acne scars, pigmented lesions and sun damage? PicoSure, which utiliizes ultra-short pulses of energy, is the ideal solution to shatter tattoo ink and skin spots faster, in fewer treatments and with improved recovery time.
What Can PicoSure Help With?
PicoSure uses the latest laser technology and can help with:
Reducing Acne Scars
Shrinking Brown Spots
Minimize Pigmented Lesions
Get impressive results without the typical downtime or discomfort. This quick and easy non-surgical and non-invasive laser skin treatment produces great results without the intense painful heat and significant skin redness.
*Picosure cannot treat red tattoo color.
Benefits of PicoSure Include:
Reduced side effects
Faster recovery time
Improved tattoo removal even on difficult ink colors
Quick treatments that last just minutes
Fewer treatments than traditional lasers
Call now to schedule your consultation with Dr. Gould to find out how PicoSure can help you.
*Consultation fee waived with treatment purchase*
Cynosure's PicoSure laser is the first and only TRUE picosecond laser and the ONLY laser using patented Focus Lens Array technology. The expandable platform offers multiple treatment indications and provides a new modality for treating all skin types such as the skin type 5 example below. This patient is of Asian and African American decent and suffers from sun damage and is extremely prone to hyper-pigmentation. Below are pictures of his PicoSure treatment. You can see HUGE improvements in skin quality and reduction of dark spots in only 2 weeks following treatment!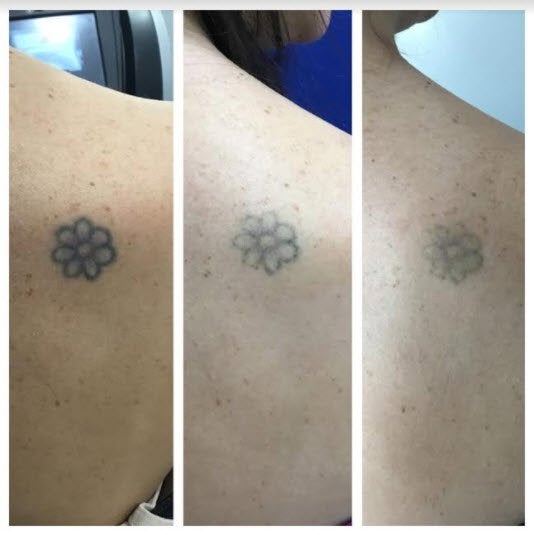 Results may vary.