Morpheus8 RF Micro-Needling Treatment in Fairfield, CT
Make Your Face Look More Youthfully Plump & Naturally Tighter
Staying youthful looking as you age doesn't have to be a dream nor does it mean that you have to go under the knife to maintain your youthful appearance. There's a new tool you should add to your anti-aging arsenal – Morpheus8.  It is one of the most advanced ablative radio frequency treatments available today to treat advanced crepey, lax skin.
Morpheus8 combines the power of micro-needling and RF (radio frequency) to penetrate deeper into the skin than any other microneedling device allowing it to stimulate collagen production to truly contour and transform different parts of the body. The result – a smoother and sleeker appearance. The Morpheus 8 doesn't just address superficial tissue; it directs energy toward the adipose fat that is notorious for creating jowls, bra rolls, and more.
Benefits of Morpheus8 RF Micro-Needling
Improves skin tone and texture*
Stimulates collagen production
Reduces wrinkles, fine lines, acne scars, and stretch marks*
Improves active acne*
Can be used almost anywhere – face, neck and body
Little to no thermal damage to the dermis
Little to no downtime
Minimally invasive
Safe for all skin types and tones
Uniform delivery of controlled energy safetly achieves noticeable results
If you're looking for a treatment that can improve the skin tone and texture of your face and neck, then Morpheus8 could be perfect for you.
---
---
Morpheus8 Helps Treat
Morpheus8 treatment helps improve and reduce the appearance of:
Stretch marks
Sagging skin
Poor skin texture
Enlarged pores
Lines and creases in the skin
Sun damage
Areas of the face and body that exhibit wrinkles and discoloration
Morpheus8 can be used on any areas that can benefit from sub-dermal renewal such as, but is not limited to treating wrinkles, acne scars, stretch marks surgical scars and more. Most commonly, Morpheus8 is used to treat the lower face and neck.
What is Morpheus8?
Morpheus8 is a new subdermal adipose remodeling device (SARD) that fractionally remodels and contours the face and body. It is a fractional skin treatment that stimulates collagen production of the underlying layers of the dermis. By targeting the deeper layers of the skin, the building blocks will reorganize themselves in a natural anti-aging process.
It penetrates deep inot the skin and fat to morph the aging face into a more desired smooth and sleek appearance for all skin tones. In fact, Morpheus8 penetrates deeper into the skin than any other microneedling device going as deep as 4mm. But just because it penetrates deeper doesn't mean it's an uncomfortable treatment. Patient comfort is actually a major advantage of this device. The sharper needles and tiny punctures are done in the skin without any tugging or pulling.
What Areas Can Be Treated?
The most common areas are lower face and neck but any area that can benefit from sub-dermal renewal can be treated with Morpheus8. Areas of the face and body that exhibit wrinkles, discoloration or acne scarring are suitable for treatment.
What Makes Morpheus8 Different from Other Micro-Needling Treatments?
Microneedling with RF is the next generation of microneedling. Regular microneedling (also known as collagen induction therapy, or CIT) is the concept of using tiny needles to penetrate the skin, creating very small channels of which the body heals by laying down new collagen. Microneedling with RF adds radiofreuquency-generated heat to the skin, which allows the treatment to tighten the skin and contour undesired fat.
The Morpheus8 treatment is FDA approved as a Subdermal Adipose Remodeling Device (SARD). This means that at its most powerful settings, Morpheus8 can sculpt or remodel the fat under the skin. At less deep settings, Morpheus8 treatment can also improve the texture of the skin, providing smoothing, tightening, and improvement of scars and dilated pores.
What is the Benefit of RF Energy and Fractionated Energy ?
RF energy heats the deep layers of the skin in a controlled manner to revitalize the collagen. This treatment helps to improve skin complexion and texture for a more radiant and youthful appearance.
Fractionated RF energy is a scientifically proven method to reduce wrinkles and rebuild collagen and fat. It is minimally invasive, using a matrix of micro pins to renew deeper layers of the skin with almost no patient downtime.
How Long Does Treatment Take?
Treatments are generally 15-20 minutes after numbing, which takes 20-25 minutes. While you can resume normal daily activities immediately after treatment, some patients experience slight redness that can be easily covered up by makeup.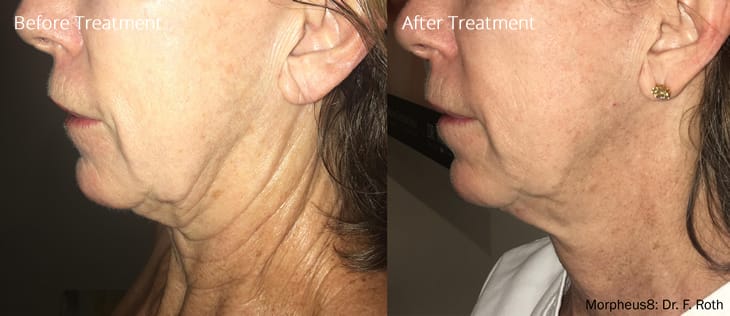 How Long Does It Take to See Results?
Visible results can be seen after only a few days. More noticeable results typically take a couple of months and full results require about six months as collagen production can be a fairly slow process.*
What Skin Types Does Morpheus8 Work On?
Morpheus8 has a color blind technology that allows it to be used on all skin types including darker skin tones.
How Many Treatments Will I Need?
If you want conservative improvement in your skin, you may only need a single treatment. For best results, we recommend 3 treatments spaced 6-8 weeks apart. This gives our patients maximum antiaging and skin rejuvenation results. If you have acne scarring or stretch marks you are looking to treat, you may require 4-6 treatments to get you ideal results. Every patient is different and during your consultation, we'll be able to outline a course of treatment based on your individual anatomy, health history, and aesthetic needs.
Why Choose Dr. Gould and the team at All About You Medical Spa in Fairfield, CT for Morpheus8 treatment?
Dr. Christine Gould and her team have the knowledge, experience, and expertise to deliver appropriate and meaningful results from Morpheus8. You deserve to look your best which is why we offer an extensive array of aesthetic treatments that get amazing results. We can customize a treatment plan to help you achieve your aesthetic goals using the best-suited treatments for your unique needs.

*Results are typical but not guaranteed. Results may vary.
What Sets Us Apart
All Procedures Done by Experienced, Personable Physician
Private, Personalized Services
State of the Art Services
Latest Treatments / Technology
Relaxing Atmosphere
Upscale Service & Treatment
Long Term Planning Based on Individual Needs
Convenient Location Near Metro North
Product Discounts for Existing Patients
Flexible Appointment Times
Pro-Nox Nitrous Oxide Available for Nervous & Anxious Patients