Non Surgical Butt Lift Treatment in CT
Introducing EMSCULPT – The World's First Non-Surgical Butt Lift
THE IDEAL WAY FOR MEN AND WOMEN TO SCULPT AND LIFT THE BUTTOCKS
It seems that Americans are obsessed with the perfect "booty." Our love affair started around the early 2000s with celebrities like Beyonce and Jennifer Lopez flaunting their curves and women around the country suddenly wanting them. And while bigger glutes can be achieved with an increase in exercise,  surgical procedures like buttock implants and Brazilian butt lifts shot up in popularity as a result of more women (and men) wanting the perfect "booty."
But while many people want derriere like J. Lo not everyone wants to go under the knife to achieve it. This is the brilliance of EMSCULPT – the world's first non-surgical butt lift. 
---
Call (203) 292-5559 now to schedule your consultation with Dr. Gould.

---
EMSCULPT Compared Brazilian Butt Lifts – A Safer Alternative
While surgical buttock procedures are still popular among some women today, many are avoiding the procedures due to their unreliable results and dangerous side effects. In fact, there are serious concerns about the safety of Brazilian butt lifts, which use a combination of liposuction and fat-grafting, after reports surfaced that the death rate following a Brazilian butt lift is a terrifying 1 in 3,000 EMSCULPT is emerging as a game changer by offering a non-invasive solution to firming, toning and lifting the buttocks that is both safe and effective. 
A recent article on Harper's Bazaar titled What is a Brazilian Butt Lift breaks down the controversial and deadly plastic surgery procedure. According to the American Society of Plastic Surgeons, more than 20,000 people had a Brazilian butt lift (BBL) done by board-certified surgeons in 2017 rising steadily from the 8,500 people who did it in 2012.
The article initial breaks down the BBL procedure, cost and recovery before moving into what makes this procedure so dangerous.
Brazilian butt lifts are controversial—and dangerous—because patients are dying on the operating table. Studies show that from 2011 to 2016 there were 25 Brazilian butt lift-related deaths. In 2017, a plastic surgery task force reported that three percent of plastic surgeons who performed the procedure had a patient die. Last August, it was reported that BBLs have the highest death rate of any aesthetic procedure, with a death rate of up to 1 in 3,000.
The great news is that Brazilian butt lifts are not the only option for a perkier bum. EMSCULPT offers a safe alternative to a Brazilian butt lift.
Why Emsculpt is a Great Non-Invasive Butt Lift Treatment
EMSCULPT treatment by BTL Aesthetics is FDA-cleared and approved to burn fat and build muscle mass, without incisions or stitches. EMSCULPT stimulates the muscles deep in your glutes and causes massive contractions, resulting in muscle hypertrophy with subtle fat reduction which can help make the area appear perkier. Not only does EMSCULPT provide a visually pleasing result, but it also increases strength and stamina of the gluteal muscles for increased athletic performance. It can also be combined with treatments like CoolSculpting and VelaShape III to improve results through extra fat and cellulite reduction and collagen production.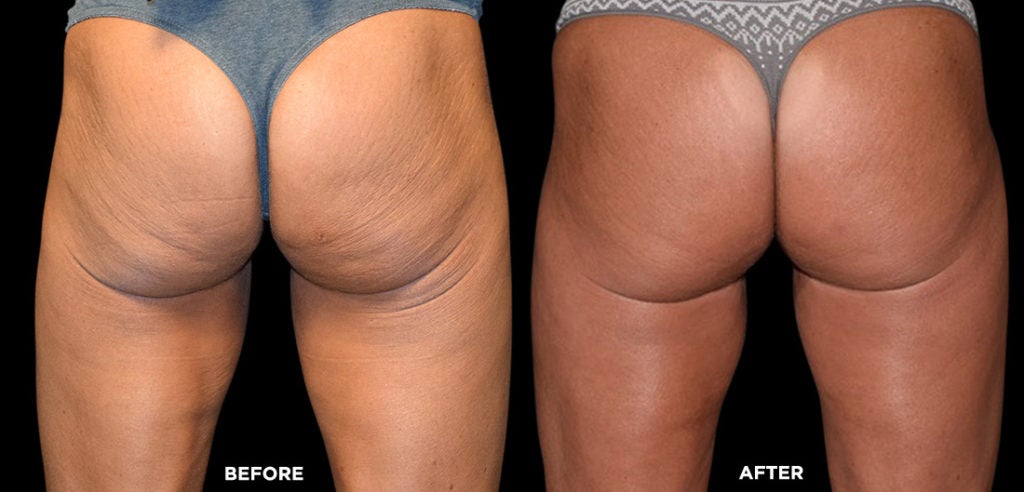 HOW IT WORKS
It works by utilizing high-intensity focused electromagnetic energy (HIFEM) to induce muscle contractions at a much higher intensity than you can achieve during a typical workout at the gym. Imagine doing 20,000 squats or sit-ups in one 30-minute session – those are the results that EMSCULPT can provide. When exposed to these supramaximal contractions, the muscle tissue in the targeted area is forced to adapt to such an extreme condition, remodeling its inner structure that results in muscle building and body contouring. In layman's terms, this means that your muscles work extra hard, without you actually having to do any physical activity.
WHO IS A GOOD CANDIDATE FOR EMSCULPT?
This treatment is ideal for patients who do not want to undergo surgery or receive injectable treatment in these areas. EMSCULPT is great for male and female patients alike. If you want to lose fat cells in a target area and build muscle at the same time, EMSCULPT is the right choice for you. People from 20 to 70 years old can benefit from EMSCULPT.
HOW MANY TREATMENTS ARE NEEDED TO SEE RESULTS?
It is recommended that patients undergo four 30-minute treatment sessions spaced 2-3 days apart. Patients will receive treatments twice per week.
HOW DOES EMSCULPT COMPARE TO REGULAR EXERCISE?
Regular exercising and EMSCULPT treatment is not comparable. EMSCULPT induces 20,000 intense muscle contractions within 30 minutes which are not possible to achieve by exercising/voluntary muscle action. Four treatments of EMSCULPT could be compared to a couple of months of working out in the gym.
WHEN WILL I SEE RESULTS?
Patients can feel tangible results right after the procedure. More visible ones are usually reported two to four weeks after all the sessions have been completed. What's more, results tend to improve even several weeks after the treatments.
EMSCULPT PATIENT TESTIMONIAL
EMSCULPT is a breakthrough in the world of non-invasive procedures – there's no doubt about it. Experts agree that achieving the ideal, lifted, natural-looking buttock requires not just a reduction of excess fat but also the toning of muscles. EMSCULPT is uniquely positioned to deliver this a result.
---
Why Choose Dr. Gould and the team at All About You Medical Spa in Fairfield, CT for your EMSCULPT treatment?
Dr. Christine Gould was one of the first physicians to offer EMSCULPT to her patients which means she has the knowledge, experience, and expertise to deliver appropriate and meaningful results.
Call (203) 292-5559 now to schedule your consultation!

*results may vary.
What Sets Us Apart
All Procedures Done by Experienced, Personable Physician
Private, Personalized Services
State of the Art Services
Latest Treatments / Technology
Relaxing Atmosphere
Upscale Service & Treatment
Long Term Planning Based on Individual Needs
Convenient Location Near Metro North
Product Discounts for Existing Patients
Flexible Appointment Times
Pro-Nox Nitrous Oxide Available for Nervous & Anxious Patients