Cellulite Treatment in Fairfield
Diminish Stubborn Cellulite & Fat Deposits without Surgery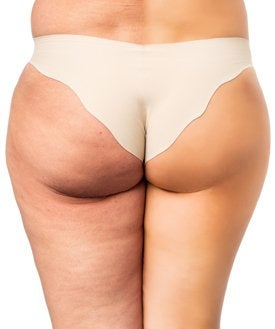 Among women, and even men these days, cellulite is one of the most common frustrations cosmetic body complaints. Women tend to focus more on decreasing cellulite as it affects about 80% of women and only about 20% of men due to the way our skin is structured.
If your body is structured to have cellulite the only way to truly lessen your cellulite is to get cellulite treatment by a trained professional like Dr. Gould.
At All About You Medical Spa in Fairfield, we can help you reduce cellulite in the following areas:
Belly and Love Handles
Back
Buttocks
Face and Neck
Thighs
Upper Arms
What Treatments Do You Have to Decrease Cellulite?
We utilize only the latest technology to reduce and diminish cellulite. Our most popular body contouring and cellulite reduction treatments are CoolSculpting and truSculpting.
Our cellulite treatment options include:
We also use Profound to help treat cellulite on the thighs – it is clinically proven to improve the appearance of cellulite in 94% of treated thighs*.
What is Cellulite?
Everyone has a layer of subcutaneous fat located just below the skin that gives our bodies contour and softness. The thickness of subcutaneous fat can vary in thickness depending on your proportion of body and fat and the location on the body. To help structure and maintain this fat layer, your body honeycombs it with connective tissue that binds to your skin and deeper layers of tissue. While this connective tissue holds your skin down it also creates fat chambers that pillow outward creating the pattern of raised and lowered skin.
A decrease in circulation in a particular area means that this area receives less oxygen and nutrition which results in a decrease in collagen production and fat cells that start to become large and bumpy. This bumpy fat is known as cellulite. Women tend to get cellulite mainly around the knees, saddlebags, stomach, thighs, and buttocks.
How Do I Reduce Cellulite?
To reduce cellulite you need to restructure the fat deposits so they are more even and uniform. While hours at the gym and a strict diet can help you lose weight, lasers are the best treatment for cellulite.
All of our cellulite treatments have:
No Surgery
No Downtime
No Injections
What Factors Determine the Presence and Severity of Cellulite?
Women tend to be more prone to cellulite than men as their collagen structure is more like a picket fence as opposed to men who have more of a chain-linked collagen structure which is much stronger and can hold fat in much better. However, there are other factors that determine if you are more prone to cellulite such as:
Call now to schedule your consultation with Dr. Gould to learn more about our cellulite treatment options. We will waive the consultation fee when you book the procedure on the same day as your consultation.
*Results may vary.