Forever Clear BBL Treatment in Fairfield, CT
Get Clear Skin with Light Based Acne Therapy
Acne is a rite of passage that almost everyone goes through during their teen years. Unfortunately, 80% of people in their 20s and 30s have acne outbreaks and others in their 40s and 50s are still prone to blemishes.
If you or someone you know has tried everything to get rid of acne but has yet to get it under control, then Forever Clear BBL may be the perfect solution! Dr. Christine Gould and the highly-skilled team at All About You Medical Spa are proud to provide this amazing laser acne treatment to help you achieve the beautiful, clear skin you deserve. We are fully committed to your outcome, so you can count on us for the best possible results.
What is Forever Clear BBL?
Forever Clear BBL is a cutting-edge light based acne treatment that clears up skin without harsh chemicals or pills. Broadband Light (BBL) therapy uses pulsed light energy to target acne-causing bacteria on the surface of skin and deep within the pores. The resulting cell stimulation and regeneration process improves the appearance of acne, and leaves you with clearer, healthier and more useful looking skin.
Benefits of Forever Clear BBL
Fast treatment time
Effective on acne, acne scars, oily skin, and enlarged pores
No downtime
Long-lasting results*
Painless
Non-invasive
Treatment tailored to match any skin type
---
---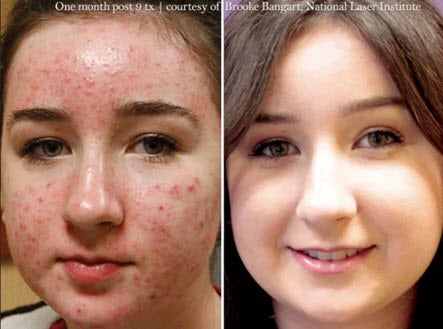 What areas of the body can be treated?
While Forever Clear BBL is effective on any area of the body, the most popular treatment areas are the face, neck, chest, and back.
How does it work?
Forever Clear BBL uses a unique three step process to ensure the best results. First, your skin will be treated with blue BBL light to eliminate acne-causing bacteria deep within the skin. Then, a yellow BBL light will reduce inflammation and redness to give you a luminous, healthy glow.* Finally, the skin is treated with SkinTyte II™, an infrared light delivered in rapid, gentle pulses to stimulate the body's natural healing process.
What to expect during your treatment
When you come in for your Forever Clear BBL treatment, you will be given safety shields or glasses to protect your eyes. If you require analgesia, you will be given choices before the treatment. A session typically lasts 20-30 minutes.
Once the session is over, you may experience temporary inflammation for a day or two, but there is generally minimal to no downtime. If you wish, you can apply makeup directly after the procedure is complete.
Results
For optimal results, you may need several treatments and the schedule will be determined upon consultation. The exact number of treatments necessary will vary. You may also need touch-up treatments every month to 6 months to maintain your look.
Healthy, useful, and clear looking skin is within your reach with Forever Clear BBL, a safe and effective acne treatment administered by Cornell- and Yale-trained Dr. Gould at All About You Medical Spa. To find out more information, contact us at (203) 292-5559 today!
*Results may vary