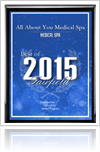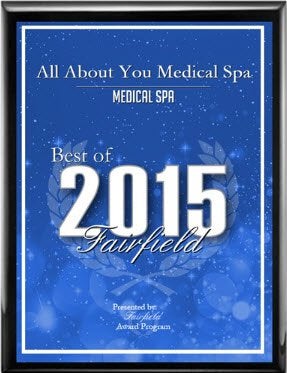 All About You Medical Spa Receives 2015 Best of Fairfield Award
Fairfield Award Program Honors the Achievement
FAIRFIELD July 22, 2015 — All About You Medical Spa has been selected for the 2015 Best of Fairfield Award in the Medical Spa category by the Fairfield Award Program.
Each year, the Fairfield Award Program identifies companies that we believe have achieved exceptional marketing success in their local community and business category. These are local companies that enhance the positive image of small business through service to their customers and our community. These exceptional companies help make the Fairfield area a great place to live, work and play.
Various sources of information were gathered and analyzed to choose the winners in each category. The 2015 Fairfield Award Program focuses on quality, not quantity. Winners are determined based on the information gathered both internally by the Fairfield Award Program and data provided by third parties.
About Fairfield Award Program
The Fairfield Award Program is an annual awards program honoring the achievements and accomplishments of local businesses throughout the Fairfield area. Recognition is given to those companies that have shown the ability to use their best practices and implemented programs to generate competitive advantages and long-term value.
The Fairfield Award Program was established to recognize the best of local businesses in our community. Our organization works exclusively with local business owners, trade groups, professional associations and other business advertising and marketing groups. Our mission is to recognize the small business community's contributions to the U.S. economy.
SOURCE: Fairfield Award Program

Dr. Gould featured as a Top Doctor in Fairfield County.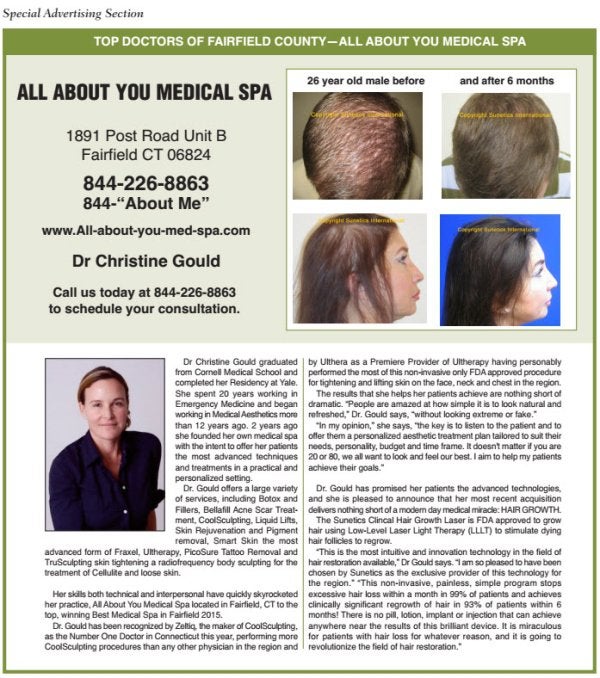 Dr. Gould founded her own medical spa with the intent to offer her patients the most advanced techniques and treatments in a practical and personalized setting.
Dr. Gould offers a large variety of services, including Botox and fillers, BellaFill Acne Scar Treatment, CoolSculpting, Liquid Lifts, Skin Rejuvenation and Pigment removal, SmartSkin the most advanced form of Fraxel, Ultherapy, PicoSure Tattoo Removal and TruSculpting skin tightening a radiofrequency body sculpting for the treatment of cellulite and loose skin.
Her skills both technical and interpersonal have quickly skyrocketed her practice, All About You Medical Spa in Fairifield, CT to the top, winning Best Medical Spa in Fairfield 2015.
Dr. Gould has been recognized by Zeltiq, the maker of CoolSculpting as the number 1 doctor in Connecticut this year, performing more CoolSculpting procedures than any other physician in the region and by Ulthera as a Premier Provider of Ultherapy having personally performed the most procedures for this non-invasive FDA approved treatment for tightening and lifting skin on the face, neck and chest.


FREEZE YOUR FAT IN HALF THE TIME WITH DUAL SCULPTING.
Starting in September 2015, Dr. Gould will be offering dual sculpting. Get CoolSculpting treatment in half the time.
With dual sculpting you are able to get treatment with 2 CoolSculpting machines at the same time which means you get the same amazing results in half the time.
Reducing unwanted fat is now even easier and can be done in half the time.
CoolSculpting offers you an FDA-cleared, safe, effective and non-surgical fat loss treatment. You have no scars, no punctures and no downtime which means you receive all the visual benefits of fat remoal with none of the painful or embarrassing side effects that surgical methods can inflict.
Call now to schedule your dual sculpting CoolSculpting appointment with Dr. Gould.
CoolSculpting 101 Animation from CoolSculpting by ZELTIQ on Vimeo .
Results may vary.

In honor of National Tattoo Day – Clean Up Your Canvas.
Declare your independence from tattoo regret with PicoSure by Cynosure.
If you harbor tattoo regret stemming from outdated art, a messy job, or a symbolic gesture that has lost its significance, National Tattoo Day on July 17th will be your chance to start fresh with a clean canvas. Whether the goal is to clean up the lines of an existing tattoo or totally remove it, All About You Medical Spa , office of Dr. Gould , can help you with the assistance of the first FDA-cleared picosecond aesthetic laser, PicoSure ® .
"Just like a relationship, trends can easily come and go, leaving one wondering years later what the reason, or lack thereof, of getting the tattoo in the first place," "Some people ask to remove all traces of ink, while others choose to cover it up with another tattoo and come in for laser treatments to clean up what can't be covered." states Dr. Gould. "With PicoSure we can effectively erase tattoos with fewer treatments and better results than other tattoo removal lasers. Get your skin ready for a tattoo touch-up, cover-up, or complete removal."
Dr. Gould offers the only PicoSure Tattoo Removal treatment in Fairfield County. Call today to schedule your complimentary 15 minute consultation to learn how PicoSure removes tattoos better than any other treatment.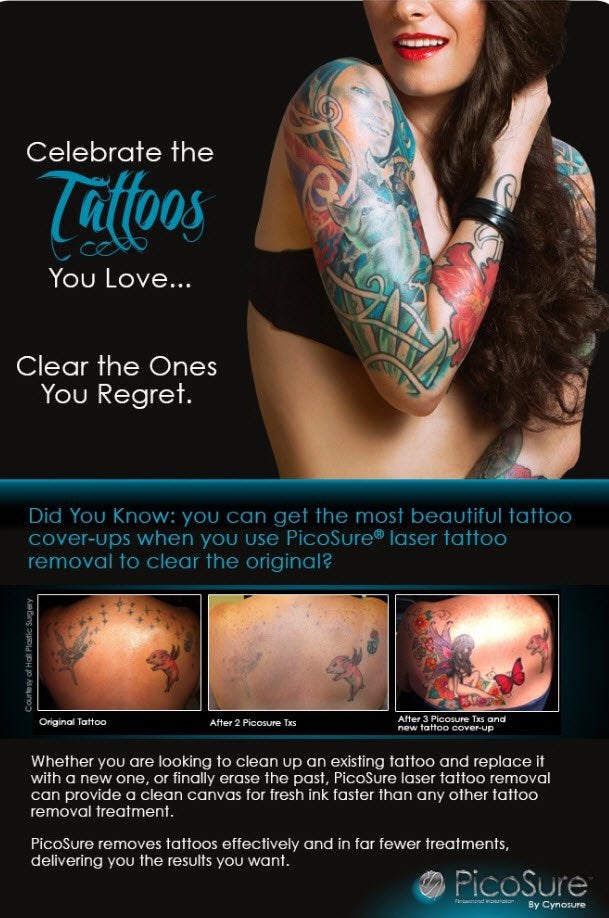 Archives
2018
2017
2016
2015