Is it possible that a shot can help you achieve orgasm?
According to Dr. Runels, the man behind the famous vampire facelift partially made famous when it was shown on reality TV by the Kardashians, the O-Shot is all about putting sexual power back in women's hands.
From the New York Post article There's a Shot that Can Guarantee You Orgasms , h e claims to have saved marriages and describes one of his earliest cases: "She was weeks away from having her divorce finalised. She found sex very painful ever since delivering a very large baby. I injected her and within three weeks the tissue had rejuvenated to a point where she could comfortably have sex again. And now she's back with her husband."
Dr. Charles Runels, the Alabama-based surgeon behind the Dracula Facial, discovered the O-Shot on Valentine's Day 2011, when his girlfriend – who was a big fan of the facial – asked him to inject her vagina. "She really loved what the facial had done for her face, and I'd also been injecting her breasts. The stretch marks there were completely gone," says the author of "Anytime… For as Long as You Want: Strength, Genius, Libido & Erection by Integrative Sex Transmutation."
Read more of the article, There's a Shot that Can Guarantee You Orgasms .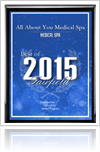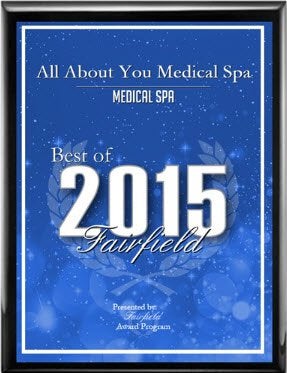 All About You Medical Spa Receives 2015 Best of Fairfield Award
Fairfield Award Program Honors the Achievement
FAIRFIELD July 22, 2015 — All About You Medical Spa has been selected for the 2015 Best of Fairfield Award in the Medical Spa category by the Fairfield Award Program.
Each year, the Fairfield Award Program identifies companies that we believe have achieved exceptional marketing success in their local community and business category. These are local companies that enhance the positive image of small business through service to their customers and our community. These exceptional companies help make the Fairfield area a great place to live, work and play.
Various sources of information were gathered and analyzed to choose the winners in each category. The 2015 Fairfield Award Program focuses on quality, not quantity. Winners are determined based on the information gathered both internally by the Fairfield Award Program and data provided by third parties.
About Fairfield Award Program
The Fairfield Award Program is an annual awards program honoring the achievements and accomplishments of local businesses throughout the Fairfield area. Recognition is given to those companies that have shown the ability to use their best practices and implemented programs to generate competitive advantages and long-term value.
The Fairfield Award Program was established to recognize the best of local businesses in our community. Our organization works exclusively with local business owners, trade groups, professional associations and other business advertising and marketing groups. Our mission is to recognize the small business community's contributions to the U.S. economy.
SOURCE: Fairfield Award Program

Dr. Gould featured as a Top Doctor in Fairfield County.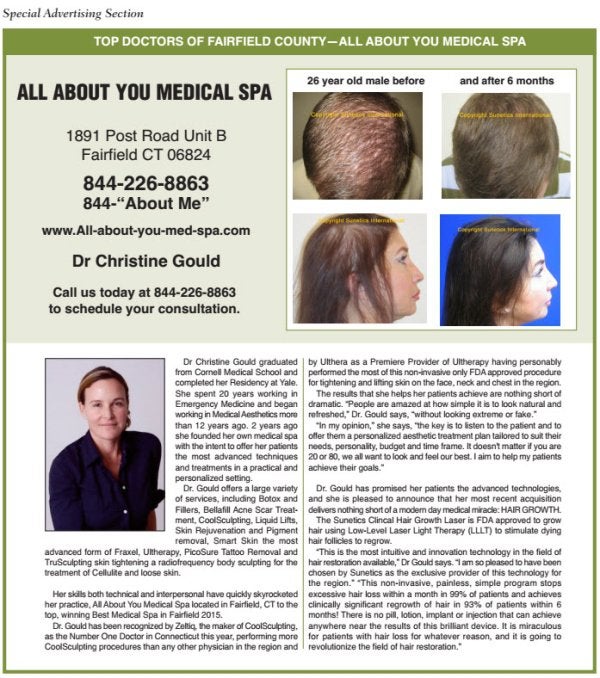 Dr. Gould founded her own medical spa with the intent to offer her patients the most advanced techniques and treatments in a practical and personalized setting.
Dr. Gould offers a large variety of services, including Botox and fillers, BellaFill Acne Scar Treatment, CoolSculpting, Liquid Lifts, Skin Rejuvenation and Pigment removal, SmartSkin the most advanced form of Fraxel, Ultherapy, PicoSure Tattoo Removal and TruSculpting skin tightening a radiofrequency body sculpting for the treatment of cellulite and loose skin.
Her skills both technical and interpersonal have quickly skyrocketed her practice, All About You Medical Spa in Fairifield, CT to the top, winning Best Medical Spa in Fairfield 2015.
Dr. Gould has been recognized by Zeltiq, the maker of CoolSculpting as the number 1 doctor in Connecticut this year, performing more CoolSculpting procedures than any other physician in the region and by Ulthera as a Premier Provider of Ultherapy having personally performed the most procedures for this non-invasive FDA approved treatment for tightening and lifting skin on the face, neck and chest.
Archives
2018
2017
2016
2015