Profound RF Microneedling Wins New Treatment of the Year Award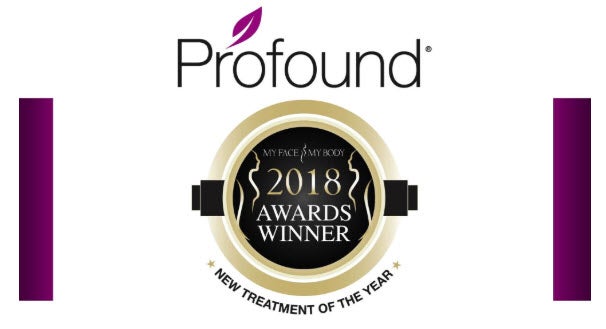 Profound® treatment has been named  "New Treatment of the Year" by The Global Aesthetic Awards, a leading aesthetic industry award, also known as MyFaceMyBody Awards USA. 
Why Is This Important?
The prestigious MyFaceMyBody Awards, now the largest and most highly recognized awards program globally, celebrates the innovation and customer excellence within the fast-growing aesthetics industry. The only industry awards dedicated to aesthetics, they honor leaders in aesthetics and brands for their product innovation and popularity.  Hundreds of applications from across the United States are received and category winners are elected from consumer and industry votes.
What Makes Profound the Best?
"The Profound treatment is clinically proven to create up to five times the elastin, twice the collagen, and increased hyaluronic acid during nonsurgical treatment enabling practitioners to offer long-lasting outcomes and provide their patients with a trusted, natural alternative to dermal injectables and surgery." – Mary Trout, Chief Commercial Officer, Candela.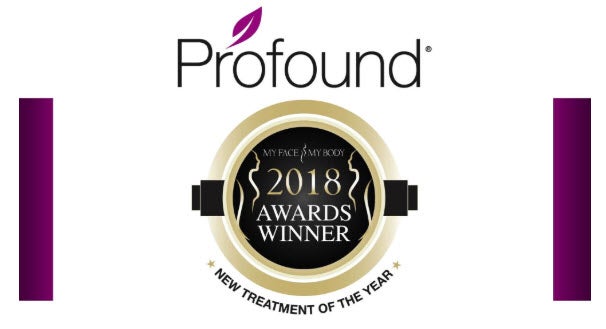 Profound is a revolutionary new energy-based facial treatment designed to create new elastin, collagen and hyaluronic acid – the building blocks that keep your skin smooth and elastic. Profound is a clinically-proven treatment that builds elastin and collagen.
It is FDA cleared for the treatment of facial wrinkles and the appearance of cellulite.
What Can You Treat with Profound?
Both dermal and adipose tissues
Wrinkles
As a minimally invasive treatment option, Profound utilizes microneedling and radiofrequency technology to increase skin elasticity for a younger-looking appearance. By helping to stimulate the production of collagen, elastin, and hyaluronic acid, Profound is ideal for diminishing the look of sagging jowls, loose skin on the neck and/or body, a double chin, cellulite, etc. With no need for surgery, injectables, or significant downtime, RF microneedling with Profound heats the skin to a controlled temperature and emits energy to permeate deep into the skin, promoting the rebuilding of elastin and collagen.