PicoSure – the industry's premier picosecond platform is a fantastic system to revitalize skin and remove unwanted tattoos. PicoSure is the world's FIRST picosecond laser used to:
Remove pigmented lesions
Treat wrinkles
If you are looking for a more youthful appearance PicoSure is a great treatment. It is a quick non-surgical, non-invasive laser skin treatment. There is no downtime with PicoSure treatments.
PicoSure is a great way to treat your problem areas. Whether they be an unwanted tattoo, brown spots, sun damage, freckles, pigmented lesions or acne scars. PicoSure can treat it all with a gentler treatment!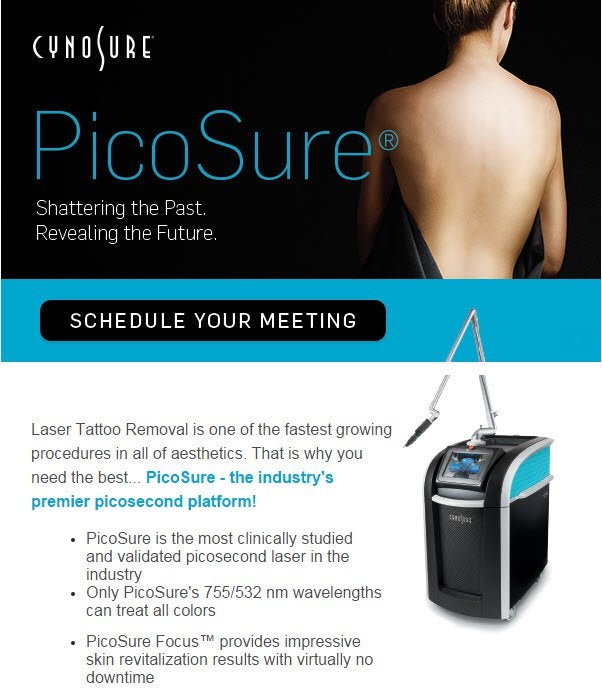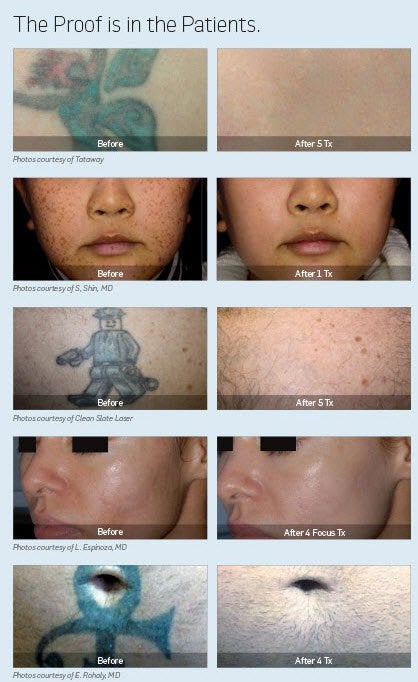 Get Complete Tattoo Removal with PicoSure
Forget about trying to use home remedies to lose your unwanted tattoo. PicoSure is the only 755nm / 532 nm laser for aesthetic skin treatments and tattoo removal of all colors. This state of the art tattoo removal laser offers both faster and more complete results as it is clinically proven to curtail all tattoo colors.
PicoSure laser tattoo removal uses a series of laser treatments in extreme short pulses of highly focused light energy are directed at the tattoo. The combination of light and energy shatters the ink into tiny fragments and then your body's immune system removes these shattered particles allowing the tattoo to fade and disappear.
The number of treatments you will need depends on the size of the tattoo, the ink color and the depth of the tattoo. However, since PicoSure uses advanced laser technology your tattoo removal will still take less sessions overall in order to achieve your desired results. Even dark blue and green inks, which are typically the most difficult to remove, can be effectively treated using PicoSure tattoo removal .
If you have additional questions about tattoo removal with PicoSure give us a call today to schedule your complimentary 15 minute consultation with Dr. Gould.
Results may vary.

In honor of National Tattoo Day – Clean Up Your Canvas.
Declare your independence from tattoo regret with PicoSure by Cynosure.
If you harbor tattoo regret stemming from outdated art, a messy job, or a symbolic gesture that has lost its significance, National Tattoo Day on July 17th will be your chance to start fresh with a clean canvas. Whether the goal is to clean up the lines of an existing tattoo or totally remove it, All About You Medical Spa , office of Dr. Gould , can help you with the assistance of the first FDA-cleared picosecond aesthetic laser, PicoSure ® .
"Just like a relationship, trends can easily come and go, leaving one wondering years later what the reason, or lack thereof, of getting the tattoo in the first place," "Some people ask to remove all traces of ink, while others choose to cover it up with another tattoo and come in for laser treatments to clean up what can't be covered." states Dr. Gould. "With PicoSure we can effectively erase tattoos with fewer treatments and better results than other tattoo removal lasers. Get your skin ready for a tattoo touch-up, cover-up, or complete removal."
Dr. Gould offers the only PicoSure Tattoo Removal treatment in Fairfield County. Call today to schedule your complimentary 15 minute consultation to learn how PicoSure removes tattoos better than any other treatment.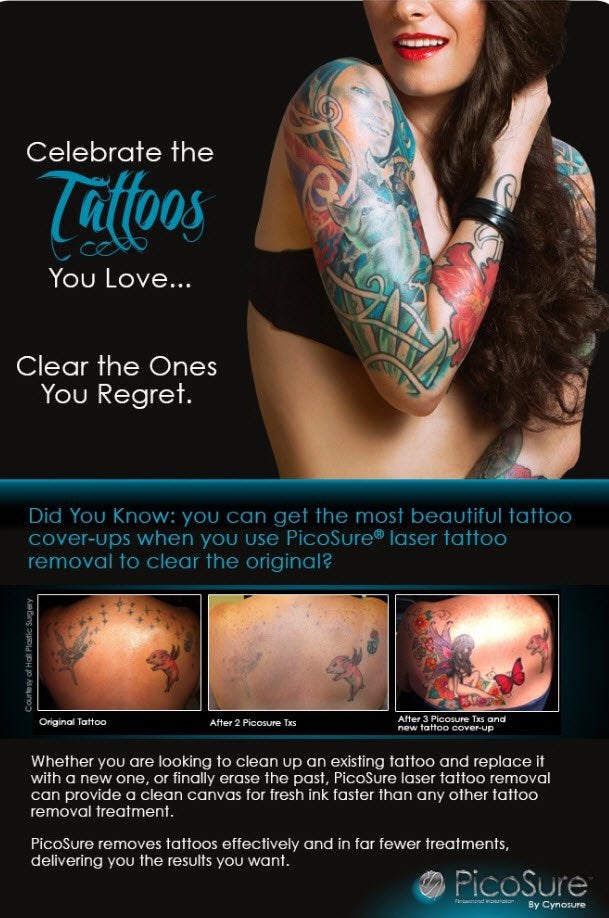 Archives
2018
2017
2016
2015