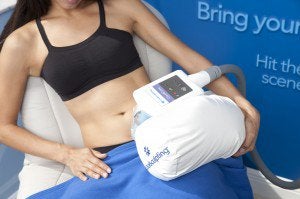 Can you really just freeze the fat away?
With CoolSculpting you can!
CoolSculpting, developed by scientists at the Wellman Center for Photomedicine at Massachusetts General Hospital in Boston, allows you to selectively reduce fat with an innovative cooling process. This technology safely delivers precisely controlled cooling to gently and effectively target your fat cells underneath the skin. During the body sculpting treatment your fat cells are crystallized (frozen) then die. Over time, your body will naturally process the fat and eliminate these dead cells leaving a more sculpted, slimmer you!
CoolSculpting is an FDA-cleared fat reduction technology that safely and effectively contours the body by freezing away unwanted fat for good without surgery or downtime.
How Does CoolSculpting Freeze the Fat Cells?

Many of us have stubborn fat deposits despite endless hours in the gym and strict diets
CoolSculpting utilizes controlled cooling (Cryolipolysis) to target and kill only these unwanted fat cells.
In the weeks following treatment, the targeted fat cells will naturally be eliminated from the body.
Results are long-term as the treated fat cells are gone for good.
CoolSculpting is a great way to dissolve your fat cells for good. While weight loss does help you in terms of looking better and getting healthier, it doesn't eliminate the fat cells from your body – it simply makes them smaller.
CoolSculpting is a great way to actually reduce the total number of fat cells in the areas you decide to treat. And once those cells are no longer there, they obviously can't get bigger.
Why CoolSculpting is Great for Targeted Fat Reduction
If you have stubborn areas of fat that you can't seem to get rid of with diet and exercise, we can help. CoolSculpting uses cooling technology to target and kill fat cells with no surgery and no downtime. Plus, with our DualSculpting treatment, you can get results in half the time.
If you have unwanted fat deposits on your body, then you are most likely a good candidate for Coolsculpting.
Results may vary.