Women aren't the only ones getting hormone replacement therapy. In fact, since 2001 the rate of men being prescribed testosterone has tripled.
Testosterone pellet therapy is increasingly being used to help men in their 40s and 50s, who like women, suffer from a significant dip in their hormone levels. This dip can result in issues such as fatigue, anxiety, listlessness and erectile dysfunction.
Antonio Sabato Jr., a 46 year old former competitor on Dancing with the Stars and aspiring politician, offer Daily Mail TV an exclusive walk-through as he received testosterone pellets sewn into his skin to help with his decreasing hormone levels. This pellet is about the size of a tictac and is insert into the fatty tissue in the upper buttock or hip area. With this method you receive hormone replacement therapy for 5-7 months before the pellet needs replaced.
Click on the image below to go to the Daily Mail TV article to watch the video of Antonio Sabato Jr. undergoing hormone replacement therapy.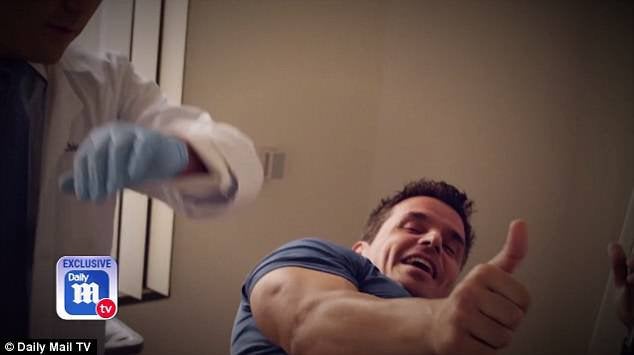 At All About You Medical Spa, Dr. Christine Gould uses natural bio-identical hormone replacement therapy to help both men and women who are suffering from decreased hormone levels. We specialize in bioTe's pellet hormone therapy because it uses bio-identical hormone replacement over synthetic methods. We prefer bio-identical over synthetic because has been proven to be more consistent with results and you don't need treatment daily or weekly. In fact, you only need to get the pellets 3-4 times per year and the pellets allow your body to receive the right amount of the hormone consistently.
If you are over the age of 40 and are lacking energy, having difficulty sleeping, experiencing weight gain or muscle pain, having trouble focusing or experiencing a reduction in your sexual drive and performance then you may benefit from bio-idential hormone replacement therapy .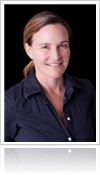 Dr. Gould was featured on Damage Control with Trevor & Jill Talk to discuss one of our newest treatments – Forever Young BBL .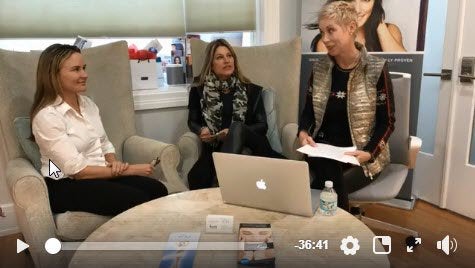 "I consider it the holy grail of anti-aging at this point. It's really when people come and they want to look natural this is the way to go!" – Dr. Christine Gould
Forever Young BBL is the only machine that is clinically proven to stop the aging process by stopping the deterioration of the DNA in our skin. In fact, it can actually scroll it back by decades.
So we know that the DNA in the skin deteriorates decade by decade in a predictable fashion. Studies have shown that if you treat your skin regularly with broadband light (BBL) you can actually stop the deterioration process and even reverse some of it.
It is really a nice broad platform treatment option that is fairly simple and similar to an IPL treatment. It uses a saphire crystal that is laid on the skin and then one by one pulses on the skin to correct different types of skin damage.
How Many Treatments Are Needed?
The number of Forever Young BBL treatments needed will depend on where you are when you start the treatment. It can be needed only once a year or up to four times per year.
Is There Downtime?
There is minimal downtime with Forever Young BBL treatment. If you have a lot of skin damage then you may experience up to a few days of downtime with the first few treatments. Most people resume their normal activities immediately after treatment.
Once you have corrected the damage and are on maitenance there is no downtime following the treatment.
How Long Does Treatment Take?
The whole treatment takes only 15-20 minutes.
This treatment is great for both men and women. And it is a great option to help treat sun damage on the neck and chest in addition to the face.

Cool moments can be big or small – a birthday ending in zero, a wedding, or even a high school reunion – and everyone encounters them.
For Debra Messing, when it comes to being ready for her cool moments like walking down the red carpet she turns to body contouring using the fat freezing technology of CoolSculpting and regular facials. At least a month prior to her big event, Debra Messing uses CoolSculpting to reduce bulges in areas with stubborn fat that are resistant to her healthy lifestyle.
Debra Messing experienced a difference with CoolSculpting — the FDA-cleared, non-invasive treatment helped her achieve her body contouring goal by freezing her unwanted fat away with no surgery and little to no downtime — because, after her treatment, she and others around her noticed a change. And the best part was that the treatment takes an hour or less.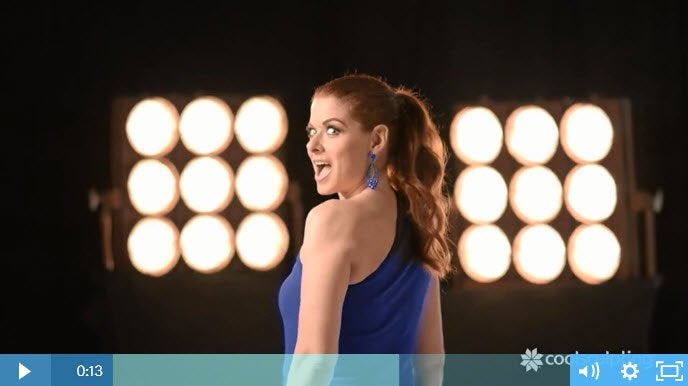 Like so many of us, Debra wants to feel like her best self, no matter the occasion. Your red carpet moment might not actually be walking an awards show red carpet; your moment may be looking fantastic in your dress at your best friend's wedding, which is just as important.
Feeling comfortable in your clothes and loving the way you look can improve your confidence to tackle your big events. CoolSculpting can help you boost your confidence by reducing your stubborn areas of fat whether they are around your abdomen, arms, chin or thighs. The CoolSculpting treatment can help both women and men get rid of those stubborn bulges for good.
Call now to schedule your appointment or consultation. We will waive the consultation fee when you book a procedure the same day as your consultation. Dr. Gould has performed more Coolsculpting treatments than any other local doctor or body sculpting center in Fairfield County.

You've heard how great CoolSculpting can be for spot reducing unwanted stubborn fat , but you may be wondering: "what about laxity? Can CoolSculpting improve the appearance of lax tissue?" When it comes to a double chin, the answer is "yes," as the FDA has cleared CoolSculpting to improve the appearance of lax tissue in conjunction with treatments for submental fat (double chin).

CoolSculpting is the first and only non-surgical fat reduction technology to earn the FDA clearance to improve the appearance of lax tissue after double chin reduction treatment .


RESULTS PROVEN IN A CLINICAL STUDY
In an 18 week clinical study of the submental fat (aka double-chin), CoolSculpting
was proven to improve the appearance of lax tissue in more than 3/4 patients
visibly improved tissue laxity in 77% of the patients
made the chin look more toned after treatment for 75% of the patients
You can think of CoolSculpting as the double approach to the double chin because not only does it noticeably reduce chin fat, it also improves the lax tissue.
Is Chin Fat Bothering You?
In a 2016 survey by the American Society for Dermatologic Surgery revealed that 73% of patients are bothered by excess fat under the chin. So if fat under the chin bothers you – you are not alone. In fact, CoolSculpting research has found that the 4th most desired treatment area is the chin.
How Does CoolSculpting Reduce Chin Fat?
CoolSculpting reduces unwanted fat by destroying fat cells with Cryolipolysis (aka "freezing the fat"). This typically results in about 20% fat reduction in the treated area.* The best part about this treatment is that it is a non-invasive treatment that takes less than 1 hour and has zero downtime. Plus, once the treated fat cells are gone, they are gone for good.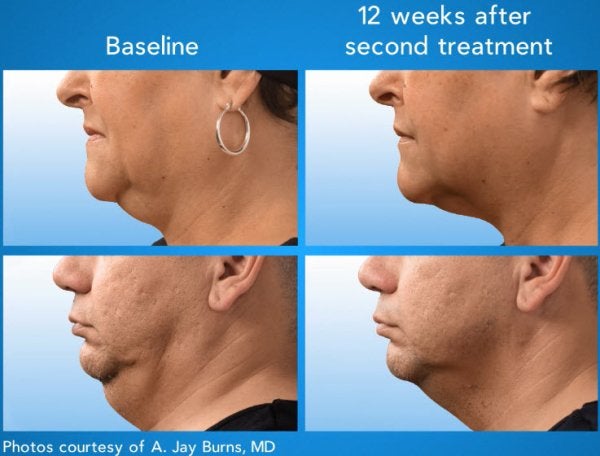 *results typical but not guaranteed
Archives
2018
2017
2016
2015