EMSCULPT Fat Removal & Muscle Toning
Build Muscle & Sculpt Your Body | No Sweat Required
The Painless Way to Lift, Fill & Firm Your Buns
THE IDEAL NON-SURGICAL WAY FOR MEN & WOMEN TO SCULPT THEIR BODY!
EMSCULPT safely and effectively improves muscle tone while burning stubborn fat without the need for surgery. If you want to spot reduce fat while building muscle or lift and firm your buns then EMSCULPT may be right for you. Sculpt a new you with EMSCULPT.
Call (203) 292-5559 now to schedule your consultation with Dr. Gould.

---
EMSCULPT HAS 96% PATIENT SATISFACTION WITH AN AVERAGE 16% INCREASE IN MUSCLE MASS AND 19% REDUCTION IN FAT*!
---
Benefits of EMSCULPT
Why should you choose EMSCULPT over other body contouring and sculpting treatments?
No sweat or gym visits required to build muscle
Only body sculpting treatment to improve muscle tone
Patients typically experience a 19% reduction in fat in the treated area*
Patients typically get a 16% increase in muscle mass in the treated area*
Non-surgical treatment with no incisions, injections or downtime
World's first non-invasive buttock toning procedure
Creates lift in the buttocks / gluteal muscle toning
Safe for repeat treatments for fully customized treatment
Build ab muscles, improve muscle tone and lose belly fat with a single treatment
Quick 30-minute treatments
Real Patient Testimonials About EMSCULPT
What is EMSCULPT?
EMSCULPT is a completely new device that is in a body-contouring class of its own. It's the first FDA-cleared energy device approved to burn fat and build muscle mass. It's a no-downtime, pain-free, non-surgical way to define the abs and lift the buttocks.
Skin, fat, and muscle from your overall body appearance. The non-invasive HIFEM® (High-Intensity Focused Electromagnetic) technology induces powerful muscle contractions not achievable through voluntary contractions. When exposed to strong contractions, the muscle tissue is forced to adapt to such an extreme condition. It responds with a deep remodeling of its inner structure that results in muscle building and sculpting your body.
My boyfriend tried the EmSculpt in attempts kickstart his core and reduce old belly fat. It seems like the most effective and least invasive way of enhancing your abs aside from your standard work out. He says it feels like the vibration of a lawn mower over your abs that cause them to flex and release periodically. It's not painful just a strange sensation of flexing all of your abdominals, vibrating a bit and releasing. He was not sore at all after any of the treatments because one of the sequences is supposed to move the lactic acid from the muscles which usually makes you sore from ordinary muscle building. It's very similar to what I've seen used for physical therapy on injured muscles to help build them back up when someone is weak or injured. The only side effect he noticed was that he had to urinate far more frequently than usual after each treatment, assuming it's the body flushing out whatever was being worked on. His belly is noticeably smaller already but apparently it takes 6 weeks to notice full effects. With only four 30 minute sessions, zero pain or soreness and the fact that it's electromagnetic makes it the easiest way to attack belly fat in my opinion! The whole staff at All About You Medical Spa we're very kind and helpful through the whole process. Definitely recommend this for anyone who's trying to cut down on belly fat or kick start their core. – Sky B.
What Areas Can You Treat with EMSCULPT?
Abdomen
Flanks
Thighs
Butt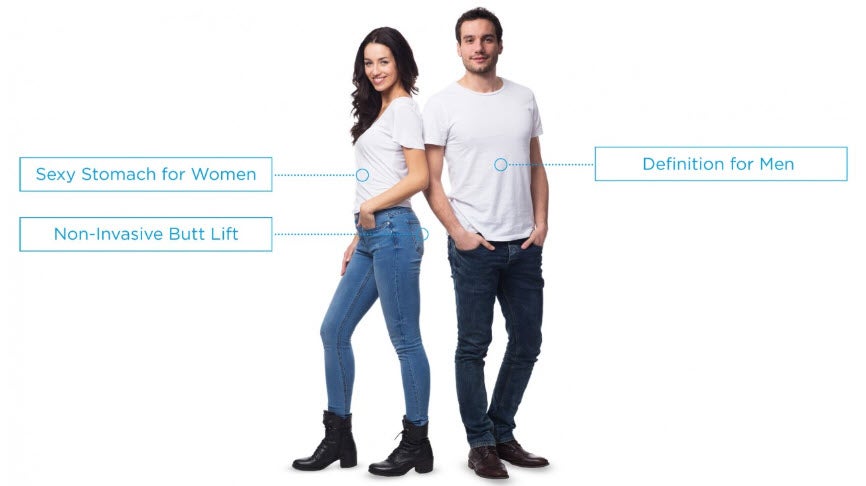 ---
EMSCULPT FAQs
---
What Results Can I Expect?
To get the best results from EMSCULPT we recommend a series of treatment, typically 4 treatments, spaced a few days apart from each other. Most patients schedule their treatments 2-3 days apart. Results from this treatment develop gradually as the body processes the treatment with optimal results visible 2-4 weeks after the initial session*.
Am I a Good Candidate for EMSCULPT?
If you would like to improve muscle tone while burning fat, odds are, EMSCULPT is right for you. Patients who tend to see the best results are usually close to their goal weight and who desire more definition of their abs or lifting of their buttocks. It is well-suited for individuals who can't seem to get a six-pack or perky derriere with regular exercise and a healthy diet. If you are unsure if this is the right treatment for you or have questions about the results you can expect we recommend scheduling a consultation with Dr. Gould.
What Does EMSCULPT Feel Like? Does it Hurt?
During the 30-minute EMSCULPT procedure, patients typically feel non-painful tightened muscle contractions. There are no incisions or injections involved in the treatment. Each 30-minute session is equivalent to 20,000 situps or crunches for the abdomen or glutes. Following the treatment, you may feel mild soreness similar to how you would feel after a rigorous workout. You are able to resume your normal daily activities immediately following treatment.
Is There Any Downtime?
No, there is no downtime with this treatment.
How Long Does Treatment EMSCULPT Take?
Each treatment takes approximately 30 minutes.
The recommended treatment plan for most people is 4 sessions, twice a week for 2 weeks.
How Long Until I See Results?
You will begin to feel tangible results right after the treatment. Most patients see the best results 2-4 weeks following their treatment*.
Will I Be Sore After the Treatment?
Your muscles may feel some fatigue or mild soreness following each treatment. This would be similar to an intense workout soreness.
Can EMSCULPT be Combined with Other Body Sculpting Treatments?
Yes, we can combine this treatment with other non-invasive fat removal procedures like CoolSculpting and Sculpsure to help enhance fat reduction. During your consultation with Dr. Gould you can discuss other treatment options to combine with EMSCULPT in order to get your desired results.
Are the Results Permanent with EMSCULPT?
Fat cells destroyed by increased fat metabolism with EMSCULPT is permanent.  However, weight gain causes remaining fat cells to grow, leading to possible loss of effect.
Muscle mass is not permanent, but likely lasts 6 months or longer.  Periodic EMSCULPT treatments can maintain the muscle tone achieved from an initial series of EMSCULPT treatments.
What Happens If I Gain Weight Following Treatment?
A healthy lifestyle, including diet and exercise maintenance, is encouraged following your series of EMSCULPT treatments. An increase in weight will allow fat stores to accumulate. This may occur disproportionately in areas untreated by EMSCULPT.
I went to Dr. Christine Gould last week and had an EmSculpt treatment. I did the treatment on my abdomen, and it was truly amazing. It feels like waves of contractions, and was very comfortable, and even felt good after a while! Dr. Gould says I need four treatments to see the full impact, but after just one I am already starting to see results. I can't wait to also do the treatment on my butt, which is supposed to be equivalent to -20,000 squats! Wow! Love this establishment and the lovely ladies who work here. – Wynne D.
---
Why Choose Dr. Gould and the team at All About You Medical Spa in Fairfield, CT for your EMSCULPT treatment?
Dr. Christine Gould is one of the first physicians to offer EMSCULPT to her patients. She has the knowledge, experience, and expertise to deliver appropriate and meaningful results from EMSCULPT.
Call (203) 292-5559 now to schedule your consultation!
*Results are typical but not guaranteed.
What Sets Us Apart
All Procedures Done by Experienced, Personable Physician
Private, Personalized Services
State of the Art Services
Latest Treatments / Technology
Relaxing Atmosphere
Upscale Service & Treatment
Long Term Planning Based on Individual Needs
Convenient Location Near Metro North
Product Discounts for Existing Patients
Flexible Appointment Times
Pro-Nox Nitrous Oxide Available for Nervous & Anxious Patients