AquaGold Fine Touch Micro-Channeling Treatment in Fairfield, CT
Boost Collagen + Plump and Rejuvenate Skin with AquaGold in Fairfield, CT
Who doesn't want beautiful, vibrant, supple skin with a fresh, natural glow? Fine lines, wrinkles and other signs of damage add years to your appearance. Turn back the clock on your skin aging, quickly and painlessly, with non downtime using AquaGold Fine Touch Micro-Channeling treatment now available at All About You Medical Spa in Fairfield, CT*. AquaGold delivers beneficial ingredients, vitamins and drugs like Botox directly below the epidermis (the surface) of the skin. Instead of requiring multiple procedures, AquaGold is one customized vial mixed with everything you need to solve those skin shortcomings*!
---
---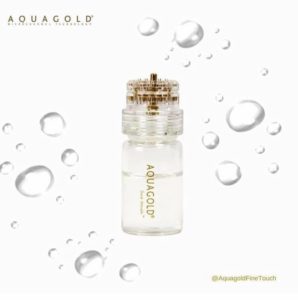 With AquaGold Fine Touch you can treat large areas that were previously hard to address. It helps plump and rejuvenate skin and takes the classic micro-needling process a step further by simultaneously addressing common concerns like dryness, fine lines, and wrinkles. This treatment can be combined with infusions of hydration, vitamins, dermal fillers, and Botox with none of the downtime!
Benefits of AquaGold
Painless treatment with minimal potential short-term redness
Brighten dull or uneven skin tone
Restore a more supple, firmer quality to your skin
Enhance laser treatments with micro-serums containing growth factors
Improve superficial acne scarring with micro-hyaluronic gel
Reduce the appearance of acne scars
Reduce the appearance of fine lines and wrinkles
Smooth skin with dermal micro-hyaluronic gel such as Juvederm or Restylane
Brighten skin with micro-pigment reducers
Shrinks pores with micro-Botox
Boost skin hydration
Boost collagen production
Kim Kardashian is GLOWING After Her AQUAGOLD Fine Touch Treatment!
What is AquaGold Micro-Channeling or Micro-Needling?
AquaGold is a minimally invasive skin rejuvenation treatment that involves a device containing fine needles that both stimulate your body's collagen production and provide access deep into your skin. It takes the science behind the skin enhancing benefits of microneedling a step further. By delivering infusions deep into the dermis, AquaGold allows for great absorption while stimulating the skin's natural production of collagen and elastin*.
The 24 karat gold needles have microchannels allowing the medications to travel directly into the skin in a controlled manner. This effectively treats, aging skin, stretch marks, wrinkles brown spots, hyperpigmentation and scars, while instantly moisturizing, plumping and rejuvenating your skin.  You have an instantaneous dewy, moist appearance to enjoy while you watch your pore size shrink and skin tone normalize.
How Does It Work?
Microneedling produces tiny, almost invisible, wounds in the skin, allowing the Botox, fillers, saline and vitamins to easily get to the level in the skin required to produce immediate and lasting effects.  Your body enjoys the infusion of healing growth factors and reacts to this by starting to renew itself using its healing mechanisms
MAKING AIRBRUSHED SKIN A REALITY WITH AQUAGOLD*!
Where Can AquaGold be Used?
Aquagold Fine Touch can be used anywhere on the face, neck and chest. Many patients choose this treatment to address signs of aging on the decolletage where wrinkles, dark spots and other damage are hard to treat.
What are the Size of the Needles?
The microneedles are 600 micrometers (0.6 mm) long and 130 micrometers (0.13 mm) wide, thinner than human hair.
How  Does AquaGold Compare to Microneedling?
AquaGold takes the principles of microneedling and enhances them taking the benefits to the next level. While traditional microneedling may be slightly uncomfortable and requires minimal downtime, AquaGold is a painless procedure which involves no downtime at all. Furthermore, AquaGold can be accompanied by the infusion of hyaluronic acid fillers such as Restylane or Juvéderm, BOTOX, growth factors, or skin-boosting nutrients to restore a glowing, fresh complexion.
How Long Does Treatment Take? Is There Any Downtime?
The entire procedure takes less than 30 minutes, and involves no downtime or recovery, although some patients may see redness and slight swelling for a few days at the treatment site.
Results are seen within 3-7 days after treatment and typically last approximately 3-4 months. Procedure can be done as often as every 1-3 months, doing several treatments throughout the year will continue to improve overall appearance of skin.
Call (203) 292-5559 now to schedule your consultation!

*Results are typical but not guaranteed. Results may vary.
What Sets Us Apart
All Procedures Done by Experienced, Personable Physician
Private, Personalized Services
State of the Art Services
Latest Treatments / Technology
Relaxing Atmosphere
Upscale Service & Treatment
Long Term Planning Based on Individual Needs
Convenient Location Near Metro North
Product Discounts for Existing Patients
Flexible Appointment Times
Pro-Nox Nitrous Oxide Available for Nervous & Anxious Patients