Ultherapy Treatment in Fairfield, CT
Lift & Tone Your Skin Without Any Downtime with Ultherapy
Many people come to my office, put their hands on their lower face, pull their cheeks up and ask, "Is there anything you can do for this?"
To that question, I answer "Ultherapy". Ultherapy is one of the best things people can do as an anti-aging measure, and many of my patients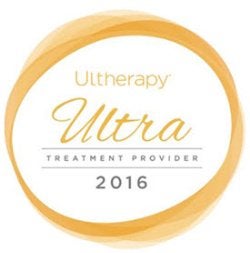 are opting to use it prophylactically against aging. It also works as an excellent adjuvant to Botox and Fillers, as Ultherapy addresses the main problem with aging: gravity.
Why Choose Ultherapy?
Ultherapy is the only FDA-cleared non-invasive lift of the face, neck and brow and is also known as the non-surgical facelift. Ultherapy is a great skin tightening treatment option for men and women who want to lift, tone and tighten areas of loose skin around the face and neck and brow area.
No surgery or downtime
Natural and noticeable results
Lifts, tightens and tons loose skin to counteract the effects of time and gravity
Gives you a more refreshed appearance
Typically only takes 1 treatment to get great results*
Rejuvenates tired collagen with new, stronger collagen
Can be performed on any skin color
Procedure only takes about 60-90 minutes
Call now to schedule your consultation with Dr. Gould to learn how Ultherapy can help you restore a more youthful appearance. We will waive the consultation fee when you book the procedure on the same day as your consultation.

How Does Ultherapy ® Work?
Named from a combination of Ultrasound and Therapy, Ultherapy harnesses the power of Ultrasound to drive energy in the form of heat into the fibromuscular layers of the skin. During the healing process, collagen regenerates and coils tighter, essentially scrolling back the collagen clock. The result is amazing with thicker, tighter and healthier-looking skin.
This procedure uses ultrasound technology to focus energy beneath the skin. This gently heats the tissue to lift and tighten loose skin without cutting or disrupting the surface of the skin. Besides the visible effects of lifting and tightening, there is also an invisible result from Ultherapy ® with the creation of new collagen, which helps the skin maintain its youthfulness.
This procedure is usually personally performed by Dr. Christine Gould who will make sure you are as comfortable as possible. This is a one-time procedure with results that can last a few years.
Ultherapy Results – What to Expect & Why Dr. Gould
Results can vary from patient to patient. You can expect a change in the skin laxity. In the neck, the platismal bands tighten and wrinkles are reduced.
Having performed hundreds of Ultherapy treatments, Dr. Gould was the first physician to personally perform Ultherapy in the region and she is the leading physician in Fairfield County for this treatment. Her intimate knowledge of facial anatomy and understanding of the aging process, combined with her years of experience, make her the best and only logical choice for this procedure.

Not all Ultherapy treatments are alike. If you value your appearance and want to give yourself the best chances for a great outcome, go to Dr. Gould.