Laser Hair Removal Treatment in Fairfield, CT
Reduce Unwanted Hair for Good*!
Almost everyone has unwanted hair somewhere on their body. Unfortunately, traditional hair removal routines can be tedious, painful and expensive over time. Shaving may last a day, waxing a couple of weeks, but none of them last forever—and therein lies the true beauty of laser hair removal. For people who are tired of shaving, tweezing, and waxing to remove unwanted hair, laser hair removal has become the preferred option and continues to be the #1 requested energy-based aesthetic treatment. It's time you get lasting hair removal results.
All About You offers laser hair removal using the premiere Cynosure Elite Plus Laser station, consistently voted the best laser for hair removal by professionals for the past 10 years. This machine can treat all skin types and most hair color. Dr Gould uses a Zimmer Cooler fan along with the laser so that your treatment is as comfortable as possible.
Laser Hair Removal Treatment Results*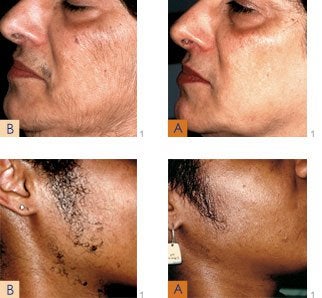 Results may vary.