VelaShape III Body Contouring
Body Contouring Treatment in Fairfield, CT
REDUCE CELLULITE, TIGHTEN AND FIRM SKIN – TREAT YOURSELF TO A SMOOTHER, SEXIER FIGURE!
VelaShape III represents the latest in cutting-edge, non-invasive body contouring technology. VelaShape III is effective for cellulite reduction, skin tightening/firming, and reducing the circumference for versatile areas of the body such as: arms, thighs, buttocks or abdomen.  With more than 1 million VelaShape procedures performed yearly, VelaShape III has proven time and again its ability to deliver noticeable, measurable and consistent results. It has changed lives, improved self-esteem, and eased self-image issues.
Call (203) 292-5559 now to schedule your consultation with Dr. Gould.

---
Why Have VelaShape III?
More than 80 percent of all women today report feeling displeased about cellulite in some areas of their body. Common areas where cellulite can develop include buttocks, thighs, stomach, flanks and upper arms. The VelaShape III precisely to combats the presence of cellulite, loose skin, and stubborn bulges in these and other areas, while reducing the girth of the area all at once.
Vacuum technology manipulates your skin while infrared light and bi-polar radio frequency energies gently heat fat cells and surrounding tissue. It is the only technology that brings together all of these cutting-edge therapies to produce visible cosmetic and therapeutic changes in your body. VelaShape III is the best option for preventing and correcting the effects of aging in the body. VelaShape III is completely safe and comfortable when performed correctly and by a certified expert – more than 3.5 million patients worldwide can attest to that*.
What Areas of the Body Can VelaShape Treat?
Abdomen
Thighs
Love handles
Buttocks
Knees
Hips
Upper arms
Bra lines
Saddlebags
What Does VelaShape III Help Treat?
Gradually smooth the skin's surface with a noticeable reduction in cellulite
Tighten and firm skin
Reduce stubborn fat bulges
VelaShape is not a weight loss treatment. It uses a combination of technologies to contour your body, reducing the trouble spots that diet and exercise can't reach*.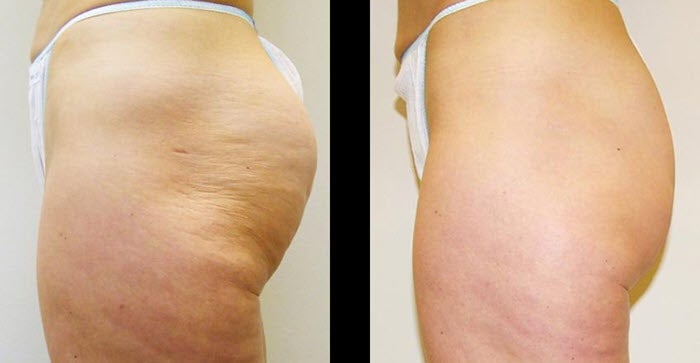 Is VelaShape Right for Me?
The ideal VelaShape patient is someone with a BMI (Body Mass Index) of less than 30, who falls under The Nurnberger-Muller Cellulite Classification Stage 1 and 2. If you are unsure if this is the ideal treatment for you, ask Dr. Gould if you are a good candidate for VelaShape treatment during your consultation.
How Many Treatments Will I Need?
The exact number of treatments that you will need depends upon your desired goals. Most patients need 3-6 treatments to achieve the best results. You have the option to undergo one longer treatment session or three shorter sessions. After 3-6 treatments, patients typically notice a reduction in both circumference and in the appearance of cellulite in the treated areas. The surface of the skin will feel smoother and firmer, too.
How Long Does Treatment Take?
The typical session lasts 15-30 minutes, per treatment areas depending on the patient's needs and body concerns. Most patients choose to have 2-3 treatment areas per visit, resulting in no more than 90 minutes. An example of a treatment area is: front thighs. Each thigh takes 15 minutes to treat, thus taking a total of 30 minutes.
What Should I Expect from the Treatments? How Soon Will I See Results?
Following your treatment(s) you should expect to see a gradual smoothing of skin's surface with a noticeable reduction in cellulite circumferential reduction with noticeable reshaping of the treated area. you begin to notice this improvement right away and the best results are seen around 10 weeks after the treatment. Some patients see results after their first visit, and in its clinical trials, VelaShape III led to a reduction of one full dress size after a series of treatments*.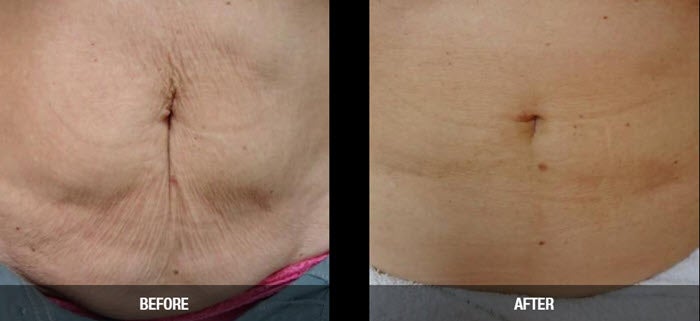 Are the Results Permanent?
So long as the patient continues to maintain a consistent weight, pursue a healthy diet and an active lifestyle, the body contouring results produced by VelaShape treatments are long-lasting. Even if there is a small fluctuation in weight following treatments, the gain may be experienced more evenly all over the body as opposed to just in certain areas. Regular maintenance and follow up treatments will hold the results of the initial treatments.  The skin firming/tightening results will generally require consistent treatments to stay on top of the natural collagen decline that occurs 6 mos after the intial.
Is There Any Downtime with VelaShape?
No. You are able to return to work and all your regular daily activities right away with zero downtime.
Is VelaShape Safe? Are Treatments Painful?
The VelaShape treatment is safe and effective for all skin types and colors. There are no reported short-term or long-term side effects. Most patients find VelaShape comfortable and describe the treatment as feeling like a warm deep-tissue massage. The treatment parameters are easily adjusted to a ensure comfortable treatment experience. It is normal to experience a warm sensation for a few hours after your treatment
---
Why Choose Dr. Gould and the team at All About You Medical Spa in Fairfield, CT for your VelaShape treatment?
Dr. Christine Gould has the knowledge, experience, and expertise to deliver appropriate and meaningful results from VelaShape.
Call (203) 292-5559 now to schedule your consultation!

*Results are typical but not guaranteed.
What Sets Us Apart
All Procedures Done by Experienced, Personable Physician
Private, Personalized Services
State of the Art Services
Latest Treatments / Technology
Relaxing Atmosphere
Upscale Service & Treatment
Long Term Planning Based on Individual Needs
Convenient Location Near Metro North
Product Discounts for Existing Patients
Flexible Appointment Times
Pro-Nox Nitrous Oxide Available for Nervous & Anxious Patients