FaceTite Non-Surgical Facelift and Necklift Treatment
Surgical Results Without the Scars in Fairfield, CT
One Procedure. Significant, Long-Lasting Results.
Are you concerned about mild to moderate signs of aging but more concerned about going under the knife to reverse the signs of aging? Suddenly notice a double chin, sagging skin at the jaw line or overall loss of facial youthfulness that you want to fix?
In the past, surgical facelifts held the key to restoring a youthful visage but now you can get amazing surgery-like results without risky surgery using FaceTite non-surgical facelift and necklift treatment.Finally, you can achieve a smoother neck, raised cheeks, tightened jowls, and reduced nasal-labial folds without surgery.
FaceTite is a revolutionary new energy-based treatment modality that harnesses Radio-Frequency Assisted Lipolysis (RFAL) to tighten and lift loose sagging skin on the face, jowls, and neck to restore and enhance a fresh, vigorous, youthful appearance. 
FaceTite is a safe, gentle and effective procedure that provides dramatic improvement in skin laxity on the face and neck, similar to that of a mini face lift. This is a safe, effective and exciting treatment that offers patients significant aesthetic changes.
---
---
Benefits of FaceTite Non-Surgical Facelift
Dramatic results without the risks associated with surgery
Long-lasting results
Safe and effective procedure
Minimally invasive treatment using RF energy
Little to no downtime
Reduce fat and tighten skin without scars
Most patients see a 40% improvement in the tightness of their skin*
Clinical studies indicate that results equal those of a surgical mini-facelift
Minimal scarring, less swelling and bruising
It is the perfect answer for patients who are not yet ready for a facelift, but want optimal outcomes.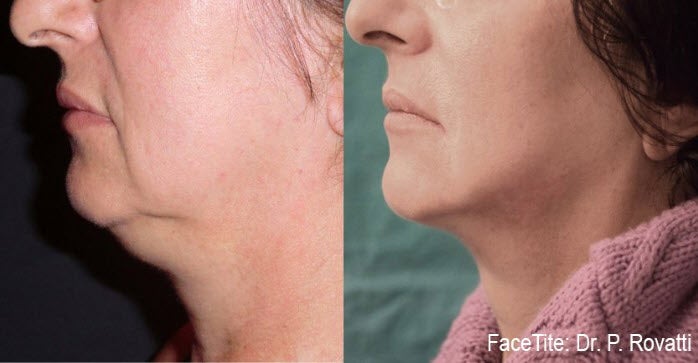 What is FaceTite?
Comparable to a surgical facelift, FaceTite provides dramatic improvements in skin laxity on the face and neck which was previously only attainable through a surgical procedure.
Also called "non-excisional tightening", FaceTite does not involve scalpels and long incisions, but instead, utilizes heat energy delivered via several small holes in the skin, holes that heal without scarring. The heat contracts loose skin and sparks the stimulation of new collagen to tighten, lift, and improve the appearance of loose, sagging skin from the inside out! As an added bonus you don't have to worry about incisions, scarring and the long downtime associated with traditional facelift surgery.
How FaceTite Works
First, your skin is numbed with a local anesthetic. Then a small tube is inserted under the skin and passes radiofrequency energy to the external electrode placed on the skin's surface. The tube heats the tissues causing them to contract and tighten. There are no surgical incisions, only small, pin-pricks that heal within days of the procedure.
Areas Treated by FaceTite
Any aeras on the face and neck with saggy skin can be treated. This includes the double chin, jowls and other areas with deep lines and loose skin.
Neck
Jowls
Cheeks
Jawline
How is FaceTite Better Than a Traditional Facelift?
By avoiding an excisional facelift procedure, patients will be scar free and will benefit from reduced post-procedural swelling and discomfort. This is a less traumatic process with a natural looking final result.
Who is a Good Candidate for FaceTite?
FaceTite is an ideal treatment for people who aren't ready for a surgical facelift or neck lift but whose skin is too loose to have liposuction to remove unwanted fat.
Individuals with age-related changes on the face and neck who are active, motivated and healthy
Women and men with unwanted wrinkles and pockets of fat in the lower face and neck
Indivduals who have already had a facelift or neck lift and want to tighten skin that became lax over the years
ExtraTV Exclusive – Talking About FaceTite
How Quickly Will I See Results?
Most patients see some results immediately but best results are noticeable after 6 months and these continue to increase for up to 12 months.*
How Long Do FaceTite Results Last?
Results from FaceTite typically last above five years.* Lifestyle may affect the lifespan of the FaceTite results. There are complementary procedures that can prolong your results. While the procedure doesn't have an expiration date at which results disappear, gradually the effects of time and gravity will continue to impact your skin and you will sagging and other signs of aging reappear.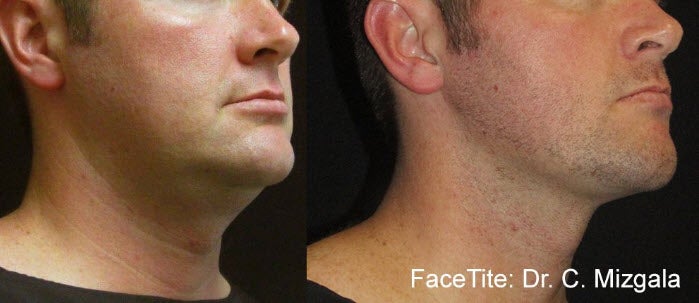 How Soon Will I See Results?
Most patients can see a dramatic improvement in the skin's tightness immediately after their FaceTite procedure along with desired contours. As collagen and elastin stores increase, the appearance will continue to improve over the coming year. Best results noticeable after 6 months, and continuing up until 12 months.* To extend the benefits from FaceTite, Dr. Gould will recommend a maintenance plan that may include additional noninvasive treatments and a physician-quality skincare routine.
Is the Treatment Safe?
The device has many built-in safeguards to ensure safety. The proprietary technology regulates skin temperature and depth of treatment among other things. Additionally, in the hands of a highly trained doctor, like Dr. Gould, this non-surgical treatment is exceptionally safe. Side-effects such as bruising, swelling, and discomfort are normally mild. The only possible scarring would be in the tiny insertion sites, but most disappear with time. It's important to know there will be far less scarring when compared with traditional surgical procedures. More serious risks are rare but may include temporary numbness, infection, and nerve damage.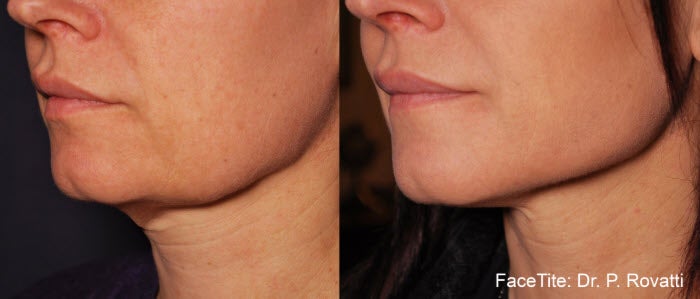 What is the Recovery Time?
Since this is a minimally invasive treatment, recovery time is minimal. Swelling and redness should be expected, and typically subside in 24-49 hours. Tenderness may last for 5-7 days, but post-pain procedure is minimal and managed with over-the-counter medication. Dr. Gould and her team will explain any limitations to physical activity but it's typically safe to resume normal activity a few days following the treatment.
Why Choose Dr. Gould and the team at All About You Medical Spa in Fairfield, CT for your FaceTite treatment?
Dr. Christine Gould and her team have the knowledge, experience, and expertise to deliver appropriate and meaningful results from FaceTite. You deserve to look your best which is why we offer an extensive array of aesthetic treatments that get amazing results. We can customize a treatment plan to help you achieve your aesthetic goals using the best suited treamtents for your unique needs.
Call (203) 292-5559 now to schedule your consultation!

*Results are typical but not guaranteed. Results may vary.
What Sets Us Apart
All Procedures Done by Experienced, Personable Physician
Private, Personalized Services
State of the Art Services
Latest Treatments / Technology
Relaxing Atmosphere
Upscale Service & Treatment
Long Term Planning Based on Individual Needs
Convenient Location Near Metro North
Product Discounts for Existing Patients
Flexible Appointment Times
Pro-Nox Nitrous Oxide Available for Nervous & Anxious Patients